Every year, the WTS Central Pennsylvania Chapter awards thousands of dollars in scholarships to encourage and support the exceptional women who are pursuing careers in a STEM or transportation-related field.  The scholarships are competitive and based on the applicants' specific goals, academic achievements, and transportation-related activities.
All scholarships are open to any person who identifies as female.  Interested female students can apply for our WTS Central PA Chapter - Colleen Brown High School Senior Scholarship or any of the national scholarships listed below.  Since 2012, WTS Central PA has awarded 45 scholarships totaling over $80,000.  In addition, one applicant for each award offered may be recommended for the national scholarship competition.  
---
Scholarships
Know a talented female student who is interested in transportation?
Help us spread the word!  See below for the letters sent to schools within central Pennsylvania, and thank you for helping us publicize our scholarship program.
Applicants can apply for one or more of the following scholarships (click on scholarship name for application and instructions):
***The "Passion and Perseverance" Scholarship - Don't fit the "traditional" scholarship mold? We strongly encourage you to still apply for the above scholarships... the scholarship selection committee reserves the right to nominate any of the current years' scholarship applicants for this unique award, which honors and recognizes hardworking students with non‐traditional school/career paths that demonstrate leadership potential and a passion for lifelong learning.***
Please review our "Guidance on how to spend the scholarship money" below.
---
2023 - 2024 Submission Details
Before applying, please review our Tips for Applying to WTS Central PA Scholarship Program.
Application packages must be received at the email or mailing address below by Friday, December 8, 2023.  Only complete application packages typed in Word or PDF format will be accepted.  Email submission is preferable.
Hannah Landvater, WTS Central PA Scholarship Co-Chair
c/o RK&K
651 East Park Drive, Suite 105
Harrisburg, PA 17111
important dates
Friday, December 8, 2023:  Application packages must be received.
January 2024:  Central PA scholarship winners notified
March 2024:  Central PA scholarship winners celebrated at annual event
                       National scholarship winners notified
May 2024:  National scholarships awarded to winners
Questions?  Contact Hannah Landvater, our WTS Central PA Scholarship Chair at [email protected]
---
*The WTS Central PA Chapter - Colleen Brown High School Scholarship is named as a memorial to Colleen Brown, P.E., a former PennDOT engineer and transportation colleague.
Image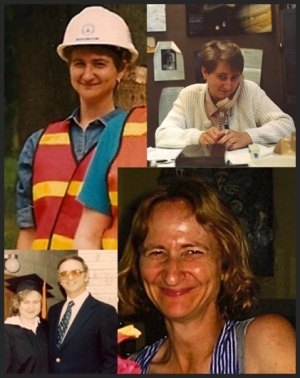 Colleen grew up in the City of Lancaster and decided early on that she wanted to be an engineer.  After researching different college engineering programs, she decided to attend the University of Pittsburgh at Johnstown because she thought that their program would give her the hands-on education she was looking for.  She graduated magna cum laude with a bachelor's degree in civil engineering.  In 1984, not long after graduation, she started working for the Pennsylvania Department of Transportation (PennDOT) in the Civil Engineer Training Program in District 8-0 in Harrisburg.  In October 1997, Colleen made the move to PennDOT Central Office as a Project Development Engineer where she was instrumental in guiding her District's efforts in the design of major projects such as SR 0202, Section 700 in Bucks County, Exit 17 on Interstate 81, and numerous other highway and bridge projects.  Colleen was a highly respected engineer and was well-like by all who worked with her.  She enjoyed living life to the fullest by spending time with family and friends and being active--whether it was traveling, running, or skiing.  She had a twinkle in her eye, an energetic "get it done" attitude, and a quick sense of humor.  In September 2010, Colleen passed away after a courageous battle with pancreatic cancer.  She was 49 years old and had worked as an engineer for PennDOT for 26 years.
---
Guidance on how to spend the scholarship money
The scholarship winner should consult IRS guidelines.  In general, if the scholarship amount exceeds their tuition, the recipient can spend the  money on the following items:
 Tuition and fees required to enroll at or attend an eligible educational institution; and
 Course-related expenses such as fees, books, supplies, and equipment that are required for the courses at the eligible educational institution.  These items must be required of all students in your course of instruction.
The following items do not qualify:
 Room and board;
 Travel;
 Research;
 Clerical help; or
 Equipment and other expenses that aren't required for enrollment in or attendance at an eligible education institution.
For more information, including tax implications for scholarships, please click on the link: https://www.irs.gov/publications/p970