Welcome to WTS Central PA's Knowledge Center...
Your resource for catching up on industry-related information highlighted in past newsletters and presentations hosted by WTS Central PA that you may have missed.
---
Check out our YouTube Channel for recorded presentations including: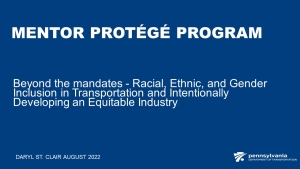 ---
The American Council of Engineering Companies (ACEC)/PA's Stakeholder Environmental Permit Task Force was formed in 2020 with the goal of improving the quality and content of Chapter 105 and 102 permit submissions for transportation projects. The Task Force is composed of representatives from various professional organizations including: ACEC/PA, WTS Central PA Chapter, PAEP, SWEP, ASHE DelVal, ASHE East Penn, ASHE Harrisburg, and ASHE Pittsburgh.

 There are four main goals the Task Force will address:
Goal #1: Update PennDOT QA/QC forms for 105/102 submissions.
Goal #2: Improve interdisciplinary (engineer/water resource/environmental) communication.
Goal #3: Review the KEES system to identify opportunities to eliminate redundant areas asking for the same information.
Goal #4: Develop procedures to address comments that are specific to individual PennDOT Districts/Conservation Districts.
To address Goal #2, a brochure was prepared to help in addressing the communication challenges associated with permit preparation. Permit preparation is a collaborative effort, and this brochure was developed to improve interdisciplinary communication. Everyone on a design team plays a role in communicating. We are responsible for knowing who needs various data, what data to provide, and when to provide the data. Download the brochure developed by the Task Force by clicking on the button below:
Stay updated on the Task Force's progress on these goals at:  https://www.acecpa.org/page/EnvironmentalResources
---
Diversity, Equity & Inclusion presentations: