Membership Benefits
Grow your professional career, join WTS today!
In support of its mission to transform the transportation industry through the advancement of women, WTS helps women find opportunity and recognition in the transportation industry through professional activities, networking opportunities, education and research. Members of WTS International receive the following benefits:
Networking
WTS provides networking opportunities through monthly program events, mixers, thought-provoking speakers and interaction with WTS members, many of whom are top leaders in the industry.
Professional Development
WTS offers a diverse mix of contacts across transportation sectors. In addition, members can take advantage of numerous professional development and leadership training opportunities.
Education
WTS offers exceptional opportunities in education including leadership training, scholarship, and fellowship opportunities, distinguished speakers and access to exclusive tools. Monthly programs provide continuing education and updates on industry trends for advancing professionals. WTS fosters communication and collaboration to give members valuable exposure to critical and timely transportation issues.
Mentoring
The Mentorship Program is developed to benefit both the mentor as well as the mentee. Participants gain the knowledge and wisdom from the women pioneers who blazed the path before them. WTS also offers a variety of networking events with other mentor teams.
Image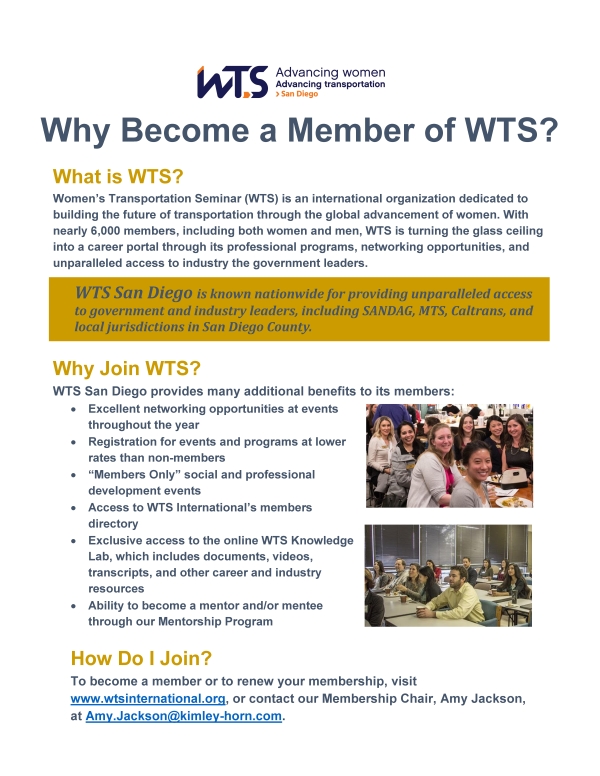 Download the flyer and recruit your co-workers and friends to join WTS!
---
Ready to Become a Member?
Becoming a WTS San Diego member is simple! Visit the WTS International site to register or contact our Membership Chair.
---
Questions?
Contact our Membership Chair, Amy Jackson.