Image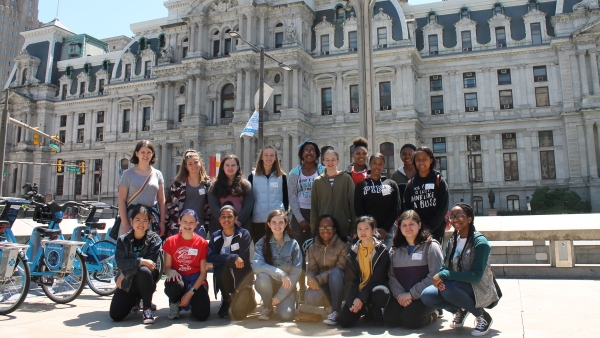 What is Transportation YOU Program?
Transportation YOU is a hands-on, interactive, free mentoring program that offers young women ages 13-18 an introduction to a wide variety of transportation careers. Through the program, WTS chapters work to make a difference in the lives of young girls by offering programs and activities that will spark their interest in all modes of transportation and encourage them to take courses in math, science, and technology, which are the stepping stones to exciting careers that can change the face of the transportation industry.
Our program is led by over 30 women professionals (engineers, planners, marketing, and finance professionals) who volunteer their time as mentors*. Throughout the program year, both mentors and mentees have the opportunity to explore what makes the transportation industry so important and learn about how it impacts their every lives. 
What are the goals and benefits of Transportation YOU?
Educate and empower young women regarding opportunities in the transportation industry

Connect mentees with role models through mentorship programs with professional women

Provide internships and career development opportunities

Help mentees build leadership skills and self-confidence

Make STEM education more accessible through scholarship opportunities

Build awareness of transportation as an exciting and rewarding career option

Contribute to the diversity and creativity of our transportation workforce

Create network of professionals in the public and private transportation industries
Events run from 10AM - 2PM in the Philadelphia region. Program Schedule subject to change, updates to be provided via email.
Register today for our 2022-2023 School Year CLICK HERE
Registration is on an open enrollment basis!
Take a Journey Through Past Transportation YOU Events
September 18 - WTS Philadelphia TrYOU Kick-off Event 
Image
WTS Philadelphia kicked off the Transportation YOU program with a "Connected and Automated Vehicles (CAV)" event, hosted by Gannett Fleming's Director of Connected and Automated Vehicle Services Laurie Matkowski. Students learned about the different types of roadway infrastructure deployed to allow vehicles to automatically "see" its surroundings to create safer environments for other drivers and pedestrians on the road. Students also learned about the connected technology they interface with during their daily lives, during their interactive field visit along Market Street to identify infrastructure needs and considerations to support CAVs in the future.
November 13 - WTS Philadelphia TrYOU College Panel
Image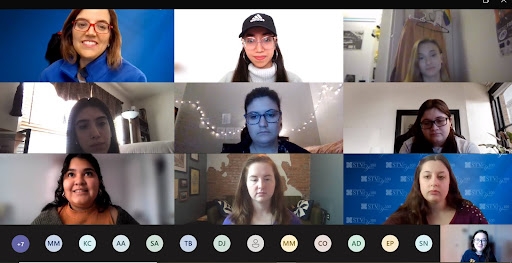 WTS Philadelphia and Greater Philadelphia Society of Hispanic Professional Engineers (SHPE) partnered for a virtual College Q&A Panel. Graduate and undergraduate students on this panel shared experiences and insights with TrYOU students interested in STEM career paths while moderated by our WTS Student Chapter president, Parisa Hossei! For more information on the Tr YOU program, please visit us at: Transportation YOU | WTS (wtsinternational.org)
Image
January 22 - WTS Philadelphia TrYOU Port Exploration
 The students of Transportation YOU were virtually immersed in the realm of Ports! Guided by Burns Engineering's Anthony H. LoCicero III, PE, LEED AP, the Tr YOU mentees learned  how portside sanitation and container terminals are planned, designed, and located in urban setting to not only equally serve communities but also to minimize their impacts to surrounding areas. After the presentation, the mentees went into their breakout rooms with their mentors to complete a resume workshop. There the students learned how to best present themselves in a resume and prepared for the upcoming Student Outreach resume book shared with our WTS Philadelphia chapter sponsors.
March 26 - WTS Philadelphia TrYOU Railway 
Our Tr YOU mentees learned from a few of the wonderful women of Conrail to find out how they got into the rail industry, what they enjoy about their day-to-day job, and how they work to help keep goods moving every day. After learning about the wonderful opportunities within the rail industry, the Tr YOU mentors gained "professionalism in the workplace" tips from our TrYOU mentors.
June 18 - WTS Philadelphia TrYOU End of the Year Celebration
Image
This past month the students of WTS Philadelphia Tr YOU participated in the end of the year event hosted by STV in their new Philadelphia office. During the event, the students learned about Gina Venuto-Gabriella and Serena Yombe journeys through college and within the transportation industry, created vision boards to visualize their personal and career goals, and participated in a marble activity to learn about the effects of friction, force and drag. To conclude the event, the students learned from STV's prominent leader and WTS Central Pennsylvania Woman of the Year Barbara Hoehne!
Questions?
Contact Studentoutreach@WTSPhiladelphia.org 
*Note that all of our mentors have undergone the background checks required by the Commonwealth of Pennsylvania.