Chapter Awards & Recognitions
Applications are open!  Submit by January 13, 2023. The applications are open to members and non-members alike and are a great way to honor those who support our organization's goals and heighten awareness of WTS in the transportation community.  The following provides a summary of the award categories:
Nominations must be typed and have the cover sheet completed.
NOTE: The Equity, Diversity + Inclusion Subcommittee on Scholarship + Awards has incorporated a new, optional demographics section for all applications – this is NOT part of the judging process.  The winners will be presented at the WTS Michigan Scholarship & Awards banquet in Spring 2023.  Winners from the Michigan Chapter will also advance to the WTS International level to compete.
---
Recently Awarded
Image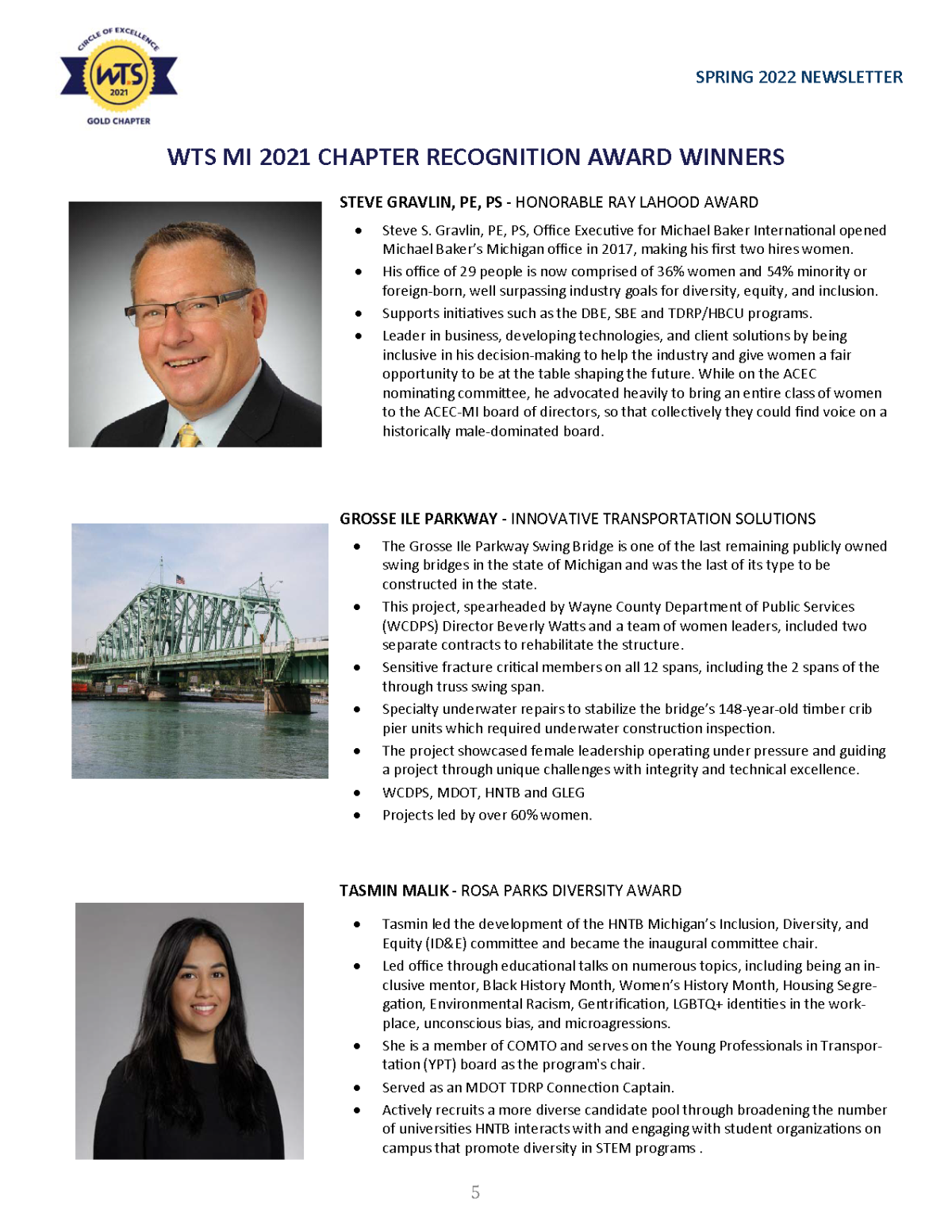 Image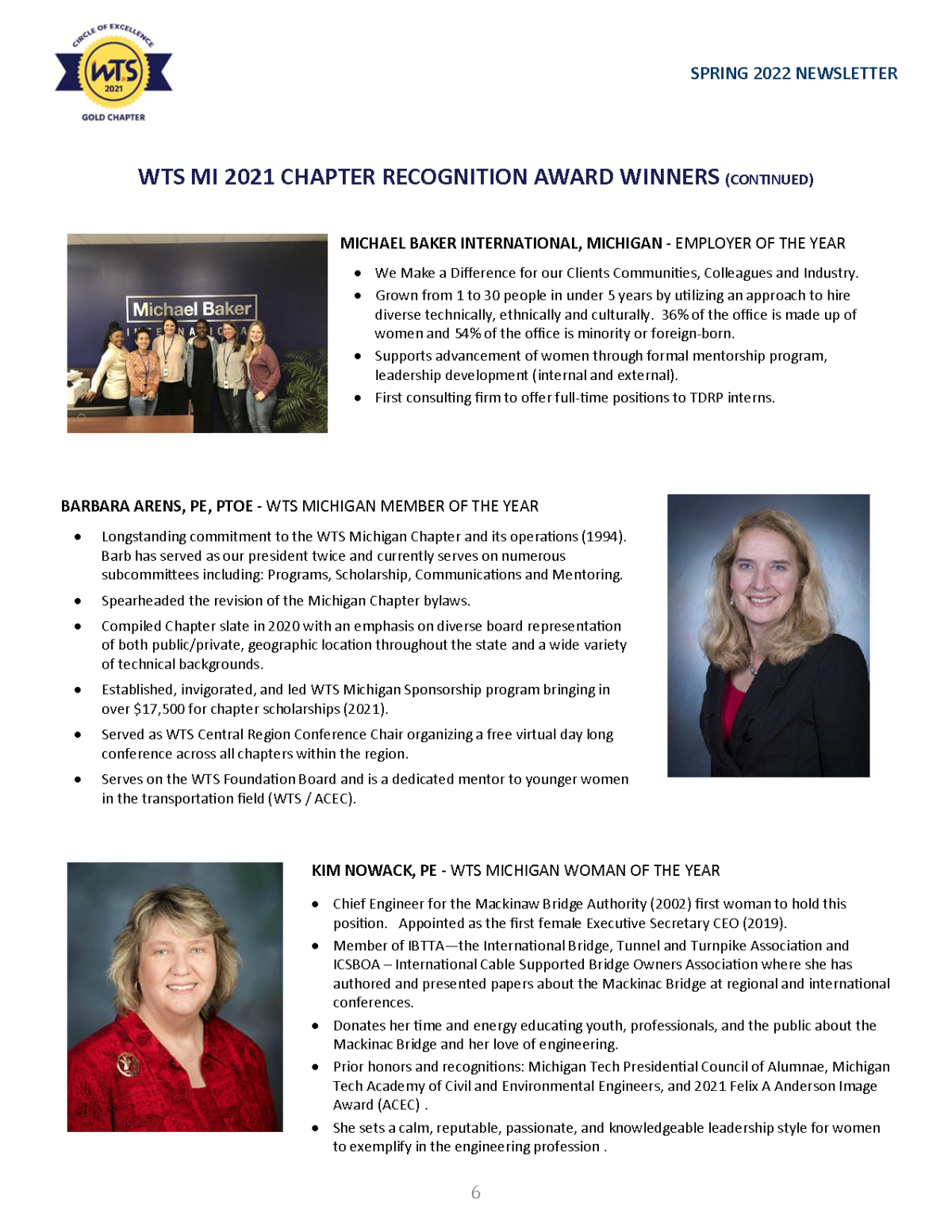 Previous Winners
Member of the Year
2021 Barb Arens, PE PTOE Cincar Consulting Group
2014  Jasmin Sisson
2012  Christina Branch
2010  Barbara Arens
2008  Sarah Binkowski
2007  Alicia Evans Suber
2006  Dana Suggitt
2005  Sue Dickinson
2004  Jane Kent 
2003  Karl Kleitsch
2002  Sielen S. Namdar
2001  Annette Kim Dentel 
2000  Cindy Durrenberger 
Woman of the Year
2021  Kim Nowack, PE Mackinac Bridge Authority
2014  Dr. Theresa Ahlborn, Michigan Tech
2012  Megan Owens, TRU
2010  Lovevett Williams
2008  Gretchen Driscoll Mayor of City of Saline
2007  Sandra Draggoo, CEO/Executive Director of CATA
2006  Jacqueline Shinn, Chief Deputy Director of MDOT
2005  Senator Debbie Stabenow
2004  Linda Fish and Debbie Huntley
2003  Gloria Jeff and Governor Jennifer Granholm
2002  Terri Blackmore
2001  Congresswoman Carolyn Cheeks Kilpatrick
2000  Representative Ruth Ann Jamnick
Employer of the Year
2021  Michael Baker, Intl
2012  Road Commission for Oakland County
2010  Parsons Brinckerhoff Michigan, Inc.
2007  Spalding DeDecker Associates, Inc. 
2006  DLZ Michigan, Inc.
2005  Ann Arbor Transportation Authority 
2004  Michigan Department of Transportation
2003  Washtenaw Area Transportation Study 
2002  Parsons Brinckerhoff Michigan, Inc.
2001  Washtenaw County Road Commission
2000  Midwestern Consulting, LLC
Rosa Parks Diversity Award
2021  Tasmin Malik
2012  Tiffany Gunter SEMCOG
2010  FHWA Michigan Division
2007  Detroit Department of Transportation
2006  Ann Arbor Transportation Authority
2005  Southeast Michigan Council of Governments
2004  Michigan Department of Transportation
Innovative Transportation Solutions Award
2021 Gross Ile Parkway (HNTB/Great Lakes Engineering/Wayne County/MDOT)
2014  Houghton/Hancock Transit Sustainability (Michigan Tech)
2012  Ride Connect
2010  I-75/9 Mile Road Design Build (MDOT) 
2008  Interurban Transit Partnership (The Rapid), SEMCOG and AATA Green Ridesharing program
2007  The People's Express 
Honorable Ray Lahood Award
2021  Steve Gravlin, Michael Baker Intl