Our chapter supports mentorship initiatives to advance young professionals and mid-level professionals through on-going activities and programs.  
Image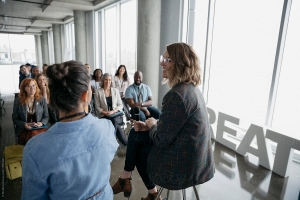 I joined the WTS Michigan Chapter in 2000. One of my mentors, Barbara Arens, PE, PTOE, was one of the founding members and she told me about the organization and it's mission. I have been a member ever since and truly believe in its mission and goals. Since joining I have had the opportunity to chair and co-chair some of the committees and am proud to now be the WTS Michigan President. My favorite part of WTS Michigan is the networking and meeting many other great women leaders and professionals that are outside my specialty. I could not have done this without this group. I have been empowered by this community and inspired by my fellow members. I'm proud to be a part of an group focused on advancing women and the transportation industry. - Sarah Binkowski, PE, PTOE 
Mentorship Minute 
Maintain confidentiality where it is needed.  This will safeguard trust in the relationship.  But, certainly look to others for advice to help maintain a healthy mentor-mentee relationship.
Mentor-Mentee Initiatives
WTS Members can also participate in WTS International Mentor-Match program. Search nationwide for a match in your respective field or area you want to explore. Click below to learn more:
Mentorship Committee Contact: Cheryl Gregory | cgregory@rowepsc.com and Jennifer Schmitzer | jschmitzer@somateng.com