Image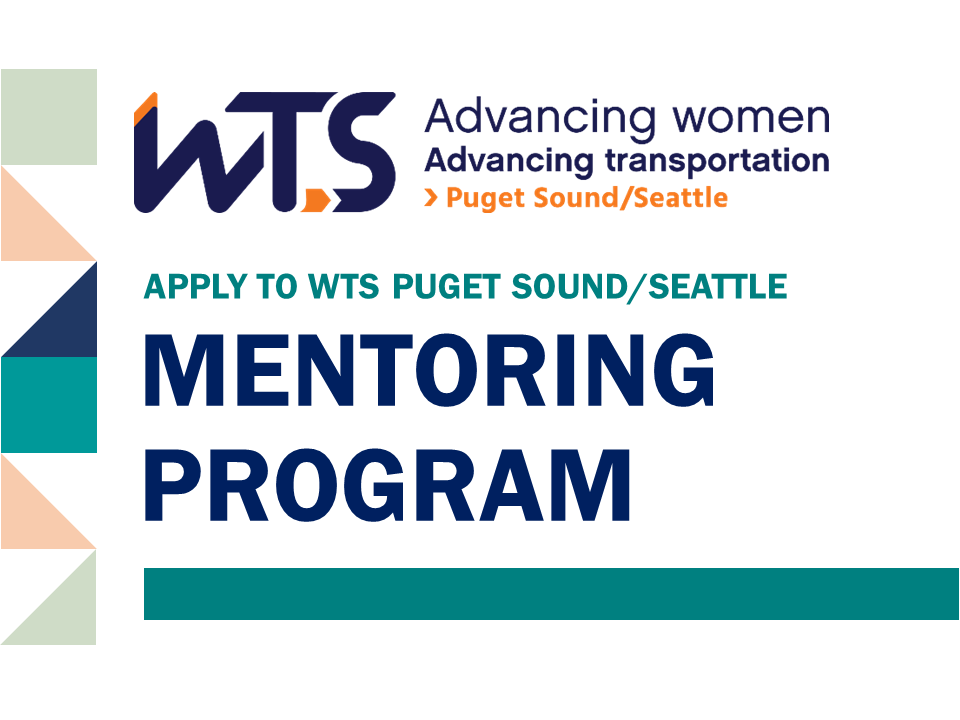 WTS Puget Sound Chapter 2022 – 2023 Mentoring Program
If you're interested in being a mentor or mentee, please sign up!
What?
WTS is committed to developing excellence in the transportation industry. To provide support for those who work, or are interested in working, in the transportation industry, WTS's Puget Sound Chapter is offering a free nine-month mentoring program (open to all genders) for those within the Puget Sound area. This encompasses people in all disciplines within the transportation industry, such as aviation, construction management, marketing, public involvement, public transportation, and transportation planning/engineering.
We are seeking:
Senior professionals to mentor junior professionals

Junior professionals to mentor entry level professionals and college students

Mentees who would like to learn from their junior or senior professional mentors on whatever topics and goals they may have
Mentees: If you are looking to take your career to the next level, this is the opportunity for you.
Mentors: No matter what your interests and experiences are, you have the knowledge and experience to share that will be valuable to your mentee.
When?
The Mentoring program is nine months, starting from October 2022 through June 2023.
How?
Submit an online application using the corresponding link below by Friday, October 14, 2022. The application questions include details about your education and career, your interests and aspirations, and your goals for the mentoring program.
You will be matched up with a mentor or mentee by the WTS Puget Sound Mentoring Committee, and then notified via email of your pairing in addition to an invitation to the Kickoff Event.
Apply by completing the online application form using the following links. Applications are due Friday, October 14, 2022. Late submissions will be put on a waiting list, and are not guaranteed to be paired during the current program year — so don't delay in completing and submitting your application!
Expectations
Please only apply if you are willing to commit to the nine-month program. Mentors and mentees will be responsible for meeting at least once a month on their own during the program – this can be face to face, on the phone, or virtually as agreed upon by each pair. We also ask that you make a special effort to attend each of the three planned events. This program will be approximately 15 hours of commitment spread over nine months.
Planned Events
Kickoff Event: Program introduction will be held in person (and a portion of it streamed virtually) with a meet-and-greet with your partner. The event is scheduled for the evening of Thursday, October 27, 2022, on the west side (Seattle). A calendar invite will be sent to participants with details on location and time.
Midyear Event: Professional development presentation (TBD); planned for late January/early February 2023.
Closing Event: Celebratory happy hour and networking event planned for June 2023.
Participants from previous years have shared their thoughts and experience in the program as well.
"I had a great experience as a mentee in the WTS Mentoring Program. All of the women I met were welcoming and eager to share their knowledge about careers in transportation. I look forward to participating again next year!"
— Stefanie Hindmarch
"WTS program allowed me to meet others in the industry and through mentorship, I learned much from those who are more seasoned in the field and gained valuable perspectives that I otherwise wouldn't have."
— Yingying Huang Fernandes
"Having had solid mentors as a new engineer was so helpful to me that I love the opportunity to help others grow in their career. WTS brings together great people to support each other in their development and meet others in the industry!"
— Renee Koester
If you have any questions, feel free to contact us, your WTS Mentoring Committee. We are: