Changing the Face of the Transportation Industry
Click the image below for our WTS Transportation YOU Northeast Ohio Chapter program video!
Image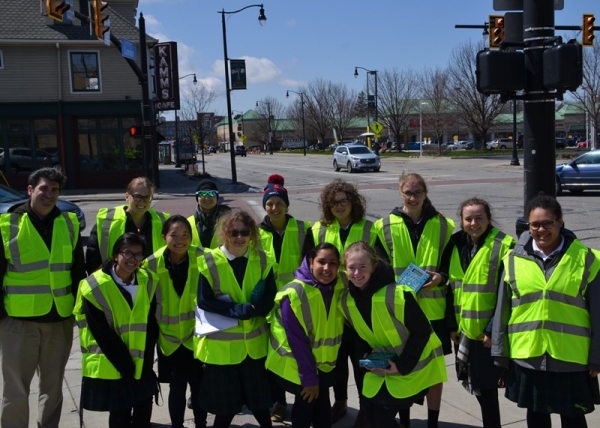 Who We Are
Transportation YOU is a hands-on, interactive, mentoring program that introduces girls age 13-18 to a wide variety of transportation careers. In 2011, we established our local Transportation You program which began with WTS members volunteering as tutors at Entrepreneurship Preparatory School in Cleveland. In 2013, we partnered with Girl Scouts to facilitate interactive day-long events to introduce girls to transportation themes such as complete streets, airport design, bridge building, geotechnical, GIS and surveying. We also assist the Cleveland Metropolitan School District Bridge Building Initiative - a multi-disciplinary STEM-infused curriculum that uses bridge building activities to help students understand engineering principles.
Mission
Transportation YOU's mission is to shape the future of the transportation industry by growing the involvement and interest of girls and young women in science, technology, engineering and math (STEM) studies.  
Programs
In 2015, we partnered with Saint Joseph Academy (SJA) to provide mentoring and outreach opportunities to their students. We hosted SJA students on two field trips, including the Innerbelt Bridge (CCG2) and the GCRTA HealthLine and Rapid Transit Station in Little Italy. In 2017, we developed a two-week curriculum that was taught to the SJA Pre-Engineering Class in 2017 and 2018. This class was designed to educate and empower the girls, link them with role models, and introduce them to various specialties within the Transportation field. In June 2018, our chapter sent our first mentee/mentor pair to the WTS Transportation You DC Summit. Kim Guice, our local Transportation You Chair, had the honor of serving as the mentor for Theresa Pham. Theresa graduated from SJA in May 2018 and will be attending Ohio State University this Fall to study City and Regional Planning.
Goals
Educate and empower girls with regard to their opportunities in" the transportation industry
Link girls with role models through one on one mentorship programs
Provide internships and career development opportunities
Help girls build leadership skills and self confidence
Improve STEM education programs
Make STEM education more accessible through scholarship opportunities
Contribute to the diversity and creativity of our transportation workforce. 
DC Youth Summit
Transportation YOU's flagship conference is a meeting of 25 girls and their mentors at the annual Youth Summit. Students who participate in Transportation YOU events will be invited to apply for a spot at this week-long summit. This is a wonderful opportunity for Transportation YOU's participants to experience once-in-a-lifetime tours, meet-ups with White House administrators, and cool challenges and breakout sessions culminating in a spectacular reception on the last night of the program.
How to get involved
All of this is made possible by the generous support of our Transportation YOU Committee, our Corporate Sponsors who donate a portion of their dues to these initiatives, as well as the support our members and friends who participate in our fundraising activities throughout the year (including the golf outing and 50/50). We thank you for your contributions and look forward to the continued success of this important program. If you're interested in volunteering, please reach out to Rachael McNutt rachael.mcnutt@wsp.com for more information.