2022 Member Spotlight
Image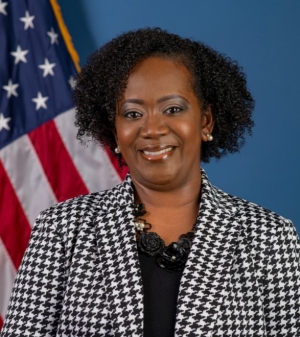 Name: Christie Dawson
Company: U.S. DOT, Federal Transit Administration
Title: Transportation Data Analyst
College: Bowie State University (undergrad) / GMU Schar School of Policy and Gov (grad) 
Degree: B.S. Business Administration / M.A. Transportation Policy, Operations & Logistics
Graduating Year: 1999 / 2006
What inspired you to pursue a career in the transportation industry? 
I started my professional career in the financial industry while pursuing my undergraduate studies at Bowie State University.  After graduation, I was ready to embark on my next career journey but was unsure which direction to go.  I applied for a job opportunity with the American Public Transportation Association (known to the transportation industry as "APTA").  It was there I developed a passion for public transportation and the communities we serve.  While working at APTA, I earned a master's degree in transportation at George Mason University.  I became an active member serving under various leadership capacities in the Washington, DC chapters of the Women's Transportation Seminar (WTS) and as President of the Conference of Minority Transportation Officials (COMTO).  These leadership opportunities, while working for APTA, helped shape my career in transportation and connect with the most distinguished leaders in the industry.
Do you have anyone that you look up to a mentor? How has this person helped shape your career?  
I've been tremendously blessed with mentors from all walks of life.  There is one individual whom I look up to the most and has become a dear friend and my biggest supporter.  I met my mentor from my Toastmasters Club.  He encourages me to keep learning and growing personally as well as professionally; set manageable goals and expectations; and look for creative ways and opportunities to improve my knowledge and expertise in the field of transportation.
What is the biggest challenge you have faced in your career? How are you overcoming this challenge? 
The biggest challenge I've faced in my career is work-life balance.  As a single mother of two children, I struggle with balancing work duties; after-school activities; and community involvement.  This challenge helped me to look at ways to better manage my time, resources, and learning "The Best Yes".  I highly recommend a book entitled The Best Yes authored by Lysa TerKeurst.  This valuable resource has been instrumental in overcoming the challenges I face.  I learned how to make sound decisions, to not feel guilty of using the word "No" and managing my stress level to be my authentic self. 
Where do you see yourself in your career in 10 years?
In ten years, I see myself as a Senior Executive Service career appointee with the U.S. Department of Transportation.  I want to complete the Federal training program for this position.  I believe this will help broaden my transportation knowledge and expertise.  I enjoy taking on new and exciting challenges in helping others get to where they need to go.  This is a great way to contribute to developing innovative solutions for the American people and growing communities.
Outside of your career, what are some of your hobbies? 
In my spare time, I enjoy traveling and exploring nature trails, staying involved in the community, and spending quality time with my two teenage children, family, and friends.
How and when did you get involved with WTS? 
I initially got involved with WTS in 2003.  My former employer, APTA, sponsored an event for a WTS-DC luncheon.  The positive energy and atmosphere from this event inspired me.  I soon joined WTS-DC where I served as the Membership Chair and Mentoring Co-Chair.  I joined WTS-Baltimore in 2020 during the height of the pandemic where I worked with the membership committee coordinating chapter social events.
What benefit(s) have you experienced from your WTS membership? 
The benefits I experienced from my WTS membership include professional development, leadership opportunities, and invaluable friendships.  I love the travel opportunities using the various modes of transportation to WTS annual conferences and events.
What project(s) are you most proud to have contributed to?  
Projects I am most proud to have contributed to are within the membership and programs committees of WTS.  I enjoy watching how WTS social and networking events come to life.  I feel as though it's a major investment for all. While serving as the COMTO-DC President, the chapter joined WTS-DC in co-hosting a welcome reception for Washington Metropolitan Area Transit Authority's (WMATA) then incoming General Manager & CEO, John B. Catoe Jr.  This event was well attended and offered an opportunity to hear firsthand his goals and aspirations for one of the largest transit agencies in the country.  This effort expanded professional networking opportunities among members of both organizations.