The WTS Transportation YOU program is a hands-on, interactive, mentoring program that offers students an introduction to a wide variety of careers in transportation.
The mission of the Transportation YOU program is to develop the next generation of the transportation industry by growing the involvement and interest of girls and young women in STEM studies and more.
---
Transportation YOU in Your Community
Through Transportation YOU programming, WTS Chapters work to make a difference in the lives of students in their communities, offering activities that introduce all modes of transportation, and encourage school course selection in math, science, technology, and communications – the stepping-stones to exciting career options; providing our sector with a diverse, prepared workforce.
Want to learn more about Transportation YOU programs and acitivies in your area? Reach out to your nearest WTS Chapter!
---
Image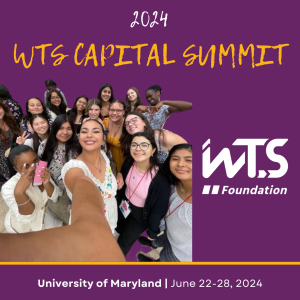 The WTS Capital Summit, a signature program of Transportation YOU, offers students an opportunity to meet transportation industry thought leaders, government and administration officials, and college students beginning their own career journeys in the industry. Historically, the Summit brings high school-aged mentees and transportation professional mentors to the Washington, D.C. area for a 4-day summer program of tours, lectures, and interactive experiences showcasing careers in transportation. Student participants are involved in Transportation YOU at a local level, and then apply to the Summit through WTS Chapters.
Learn more about the Capital Summit here.
---
Image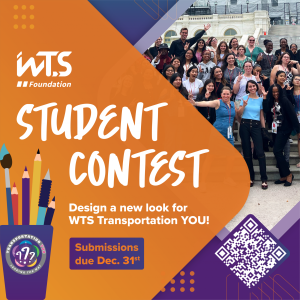 Get your creative juices flowing - submissions for our 2023 WTS Transportation YOU Student Contest are open now through December 31, 2023!  WTS is looking for a refreshed brand identity for our Transportation YOU program - logo, color scheme, and general design that will make TYOU immediately recognizable. Students age 13-18 are eligible to submit. 
Find out more about the Contest here.
---
Corporate Sponsors
WTS Foundation applauds our corporate sponsors who help support the WTS Foundation and WTS Transportation YOU mission by sponsoring the Capital Summit program. Interested in becoming a WTS International Corporate Partner or a WTS Capital Summit sponsor? Contact us!