Transportation YOU is a hands-on, interactive, mentoring program that offers students an introduction to a wide variety of careers in transportation.
The mission of the Transportation YOU program is to develop the next generation of the transportation industry by growing the involvement and interest of girls and young women in STEM studies and more. Through the program, WTS Chapters work to make a difference in the lives of girls by offering activities that introduce them to all modes of transportation, and encourage school course selection in math, science, technology, and communications – the stepping-stones to careers that can change the face of the transportation industry.
Image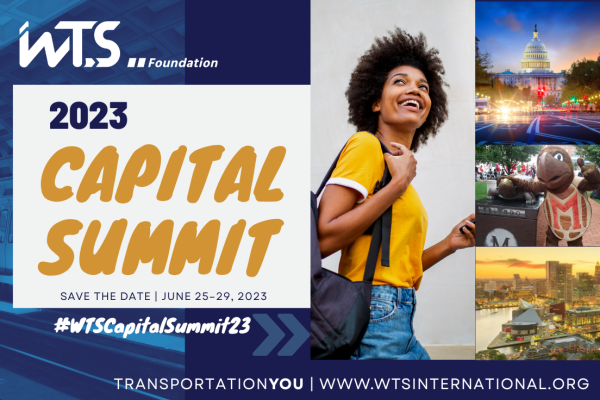 The 2023 WTS Capital Summit
The WTS Capital Summit, a signature program of Transportation YOU, offers students an opportunity to meet transportation industry thought leaders, government and administration officials, and college students beginning their own career journeys in the industry. Historically, the Summit brings high school-aged mentees and transportation professional mentors to the Washington, D.C. area for a 4-day summer program of tours, lectures, and interactive experiences showcasing careers in transportation. Students register to attend the Summit through WTS Chapters.
The Summit provides participants experience in engineering challenges, professional development and leadership skills development, networking events, local tours, and opportunities to learn about core transportation development components, such as accessibility, livable communities, and urban planning. Tours may include the U.S. Department of Transportation; the U.S. Capitol and U.S. Congress, local airports, highway research facilities, the Washington Area Metropolitan Transit Authority (Metro), live engineering projects, port operations, and other transportation hubs. The Summit also encourages student attendees to consider a wide variety of future undergraduate and advanced degree opportunities... STEM, engineering, and beyond.
2023 WTS Capital Summit
June 25–29, 2023
University of Maryland | College Park, MD
 
Apply for the 2023 Capital Summit 
2023 Applications are now closed. Questions? Contact Lindsay Shelton-Gross at lsheltongross@wtsinternational.org 
 
2023 Capital Summit Pricing
For WTS mentors and high school-age mentees, the cost to attend is $2,000 per participant. A discount will be offered for each additional student mentee participant. For example:
1 WTS mentor + 1 mentee: $4,000 ($2,000 per person) total
1 WTS mentor + 2 mentees: $5,500 total
1 WTS mentor + 3 mentees: $7,000 total
 
2023 Capital Summit FAQs
Download the 2023 Capital Summit FAQs here.
Download the College Counselor FAQ here.
 
2023 Capital Summit Sponsors
 
Image

2023 Summit Tour Sponsors:
Assedo Consulting
Yvonne Lopez-Diaz
Mineta Transportation Institute
Student Scholarships:
AECOM
Interested in sponsoring the Capital Summit? Find out more here.