Transportation YOU is a hands-on, interactive, mentoring program that offers students ages 13-18 an introduction to a wide variety of transportation careers.
The mission of the Transportation YOU program is to develop the next generation of the transportation industry by growing the involvement and interest of girls and young women in STEM studies. Through the program, WTS chapters work to make a difference in the lives of girls by offering activities that introduce them to all modes of transportation, and encourage school course selection in math, science, and technology – the stepping-stones to careers that can change the face of the transportation industry.
 
Image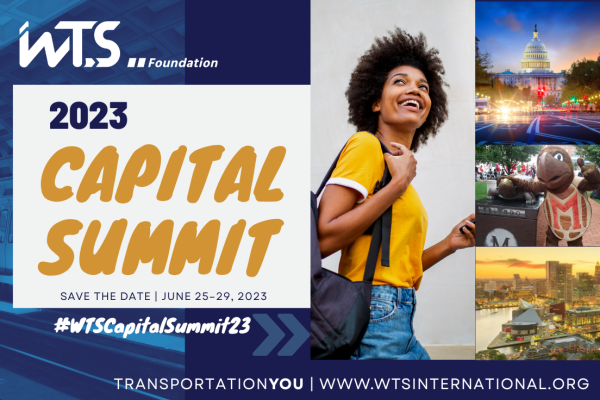 Transportation YOU: Capital Summit
Traditionally, the WTS DC Summit is the signature program of Transportation YOU. The Summit offers attendees an opportunity to meet college students, industry thought leaders, and government and administration officials, including the U.S. Department of Transportation leadership; explore the U.S. Capitol and U.S. Congress, local airports, the Washington Area Metropolitan Transit Authority (Metro), and other transportation hubs. The Summit alsos allows students to experience engineering challenges, professional development and leadership programs and networking events; and learn about core transportation development components, such as accessibility, livable communities, and urban planning. The Summit also encourages attendees to consider a wide variety of future undergraduate and advanced degree opportunities.
Historically, the Summit brings mentees (students age 15-17) and mentors (transportation professionals) to Washington, D.C. for a 4-day summer program of tours, lectures, and interactive experiences showcasing careers in transportation. Students register to attend the Summit through WTS Chapters.
The DC Summit will return as the WTS Capital Summit from June 25-29, 2023. Check back soon for information and registration for next summer's program! 
Corporate Sponsors
WTS Foundation applauds our corporate sponsors who help support the Transportation YOU mission by sponsoring the Capital Summit program. Interested in becoming a WTS International corporate partner or TransportationYOU Capital Summit sponsor? Contact us!