Thank You to our Current Sponsors!
Become a WTS South Florida Sponsor Today!
Each year, South Florida WTS hosts a series of educational and advocacy events related to improving all modes of transportation with a special emphasis on current challenges and opportunities facing our region. We have a unique membership and network of professionals from both the public and private sector that contribute to building a safe and efficient transportation system, for both the movement of people and goods, while creating and sustaining economically vital communities.
Our mailing list includes elected officials, government agencies, engineers, architects, planners, designers, public involvement specialists, developers, and many others who design, build, and fund transportation projects. As a South Florida WTS Sponsor, you will have a unique opportunity to connect with this influential network.
Image
Potential Sponsors Please Note - The WTS South Florida Chapter has made a few changes to the annual chapter sponsorship program beginning calendar year 2023. All new/renewed annual sponsorships will begin on a standard cycle. Annual sponsorships are available to begin in either March or in September each year. Annual sponsorships are still applicable for 12-months from when they begin. Also, please note that a new type of sponsorship level is being offered– an "In-Kind Sponsorship" is available for up to 5 public agencies or non-profits.  For more information, please see the sponsorship brochure and contact us today if you have questions or would like to get started as an annual sponsor in the next cycle!
The levels of annual Sponsorship available, and the benefits associated with each, include: 
Image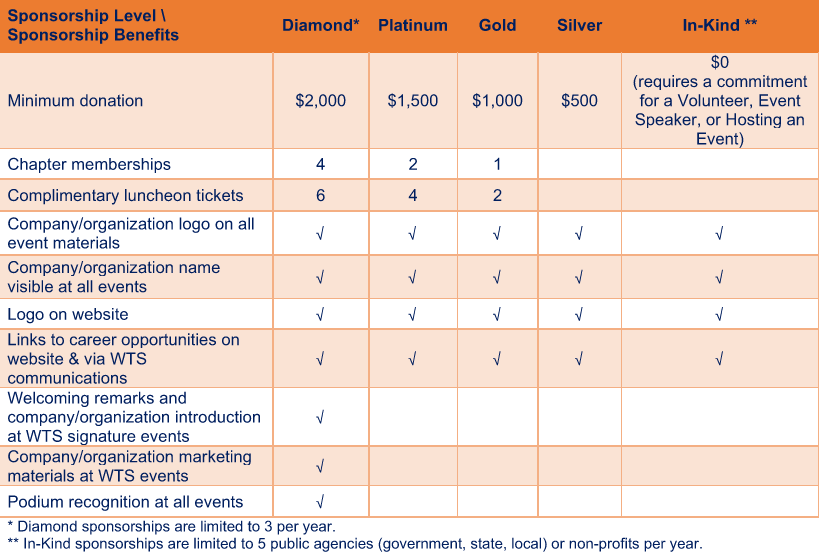 To learn more about this opportunity, please contact the South Florida WTS Sponsorship Chair, Lisa Dykstra at Lisa.Dykstra@rsandh.com.
Image

2021-2022