Image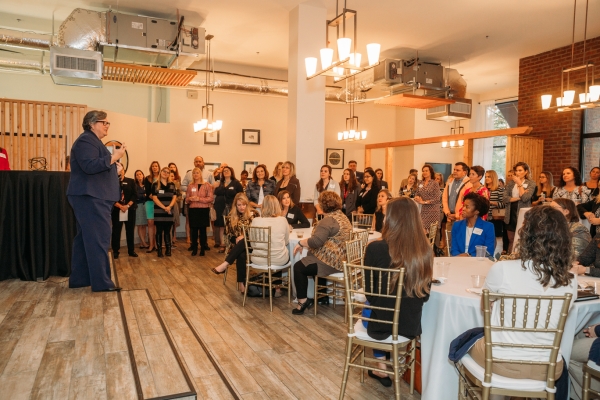 In support of its mission to transform the transportation industry through the advancement of women, WTS helps women access opportunity and recognition in the transportation industry through professional activities, networking opportunities, education and research.  Women as well as Men are invited to join.  WTS seeks to break down historic barriers to entry and obstacles to success within the industry.  We all have a role to play in this mission and we welcome all to be a part of its achievement!  Members of WTS International receive the following benefits:
Advance Your Career
Access free and member-exclusive events

Strengthen your leadership skills by attending trainings and conferences at reduced rates

Use the membership directory to collaborate with other professionals

Demonstrate thought leadership by collaborating in the online community with WTS Communities or WTS SC LinkedIn Members Group

Take part in the WTS International mentor program to provide or benefit from peer support

Visit the Career Center to find your next opportunity

Push the industry forward with the help of the WTS Entrepreneurship Program

Build relationships by volunteering with the WTS SC Chapter on a committee or Board of Directors
Networking
WTS provides networking opportunities to the highest levels of the transportation industry through monthly program events, thought-provoking speakers and interaction with WTS members, many of whom are top leaders in the industry. Each member is provided with the highly coveted membership directory, a powerful career tool giving each member access to other WTS professionals. In addition, members have access to the WTS professional networking site called MyWTS Communities, where they can participate in a variety of different discussions, collaborate on projects and engage in dialogue with other members.

Professional Development
WTS offers a diverse mix of contacts within and across transportation sectors, educational and career-focused guidance and preparation, and access to the WTS International Career Center, the premier electronic recruitment resource for positions tailored to the transportation industry. In addition, each year WTS selects 14 mid-career members to participant in its prestigious Leadership Training Program. The training offers interaction with leading industry professionals, and challenge their analytical and creative skills. Program leaders mentor participants in tackling case studies and exercises dealing with complex transportation issues of people, policies and politics.
Education
WTS offers exceptional opportunities in education including leadership training, scholarship and fellowship opportunities, distinguished speakers and access to exclusive tools. WTS fosters communication and collaboration to give members valuable exposure to critical and timely transportation issues.

Mentoring
We offer successful mentoring programs to chapter members, developed to benefit both the mentor as well as the mentee. Benefits for the mentor include sharing career success stories with future women leaders, building long-term relationships, and giving back to an industry that needs to hear and remember these stories. Mentees gain the knowledge and wisdom from the women pioneers who blazed the path before them. WTS also offers a variety of networking events with other mentor teams.
Image