Welcome to WTS Heart of Texas Chapter!

The WTS – Heart of Texas Chapter is dedicated to the advancement of women in the transportation industry within Central Texas.  With the support of over 160 members and Corporate Partners, our chapter offers numerous professional programs, networking opportunities, and unparalleled access to industry and government leaders within Austin.
If you are interested in joining the WTS – Heart of Texas Chapter, please sign up through the "Become a Member" link in the left-hand column.  We are also looking for volunteers to participate in all levels of leadership within our various committees so if you are willing to get involved and make a difference in our organization, please do not hesitate to contact me or anyone else on our Board of Directors.
 
Jackie Sartor
President
WTS-Heart of Texas Chapter  
E-mail: president@wtshotchapter.org
 
Find out what the WTS HOT Chapter has been doing for the first quarter or 2020 here in our newsletter.
 
Join the mailing list for a first chance to register for upcoming events!
Opt-In
Image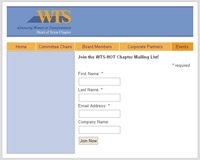 Join the WTS-HOT Mailing List!
Join us for an upcoming event!
March Luncheon: Emerging Transportation Technologies in Texas, March 18, 2020
April Luncheon: April 15, 2020
16th Annual WTS Heart of Texas Gala: April 25, 2020 (Early Bird Tickets On Sale Now)
Image