WTS Hampton Roads Chapter Newsletter - Spring 2023
Spring has sprung here in Hampton Roads! Our chapter is flourishing, and we are so excited to share with you all of the incredible events we have put on so far this season. Special thanks to all our new committee chairs who have stepped into new roles and the previous position holders who have helped create a seamless transition. 
- WTS HRC Communication Committee
---
Letter from Leadership
Image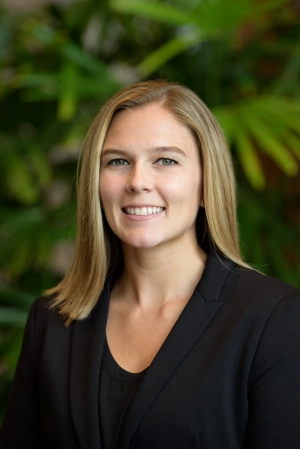 The Hampton Roads Chapter has started the year off strong! We have successfully voted in the new board members and committee chairs and have been transitioning into the new roles since the beginning of the year. I am proud to say we have found our groove. Holding a position within a professional organization takes true dedication and I am so thankful for all of our chapter's board and committee members. Our chapter would not function without them!
I would also like to give a shout out to all of our members for continuing to support the chapter and attend the events. Lastly, our chapter truly appreciates our corporate sponsors! So far this year we have made a big push and received many renewals from our sponsors as well as a couple of new sponsors. These corporate sponsorships enable us to host such engaging events.
In January, we held our annual chapter kickoff meeting over lunch and opened the meeting to anyone interested in our chapter! All of our new board and committee members were present, and all got to introduce themselves. At this meeting, we were able to game plan our route for the upcoming year, as well as give some new members a look into our day-to-day operations.
In March, we held two events! We hosted a social networking event at Smartmouth Brewing Pilot House in Virginia Beach. This was a great event to attend to enjoy some networking with a beer and pizza. We also had many new faces that day, which was great to see. At the end of March, Old Point Wealth Management presented to us at a professional development luncheon. Financial experts educated us about engineering our financial future. This luncheon was very interactive and probably could have lasted all day with the amount of information presented and questions asked from attendees!
In April, Colonel Beth Behn, the Chief of Transportation for the Army, presented on the US Army Transportation Corps. Colonel Behn is a highly decorated leader in the Army and she provided an update on her transportation efforts, as well as shared information from her successful career. Colonel Behn is truly an inspiration to women in the transportation field!
All of these elements mentioned above, help us strive towards our mission of advancing women in transportation. We are looking forward to a great summer of events. Hope to see you there!
-Carly Goldsborough, PE
WTS HRC President
---
Scholarship and Recognition Award Nominations 
Applications for the Hampton Roads Chapter 2023 Scholarship Program have closed. Scholarship recipients will be notified and announced in the coming weeks. Our Chapter is looking forward to honoring the recipients at the Annual Reception in Fall of 2023! 
---
2023 Annual Conference:

The Great Intersection

, held May 10–12, 2023, in Atlanta, GA
The 2023 WTS International Annual Conference, The Great Intersection, will be held on May 10–12, 2023 (with pre-conference activities starting on May 9th) at the Omni Atlanta Hotel at CNN Center, located in the heart of downtown Atlanta, GA and within the bustling Centennial Park District. Atlanta is a city known for its vibrant history and modern progress in equity and inclusion in transportation and beyond, which makes this the perfect location to explore the essential relationship between transportation and equity. This year's Keynote Speaker is Cassi Chandler, the FBI's first African American female Special Agent Assistance Director. You won't want to miss Cassi Chandler's speech or the opportunity to learn and refine skills with professional facilitators so make sure you register here!
---
Shout-out to our Sponsors
Our sponsors are a vital part of our organization and with their support, the chapter has been able to grow, connect and strengthen women and professionals in the transportation industry across Hampton Roads. We are excited to announce two new sponsors this spring, Clark Nexsen (Gold) and Elizabeth River Crossing (Platinum)! The WTS Hampton Roads Chapter welcomes these new partnerships and thanks all sponsors who have continued their support for the new year. The list of all current sponsors and application to apply to become a sponsor can be found on our Corporate Partnership web-page .
---
Image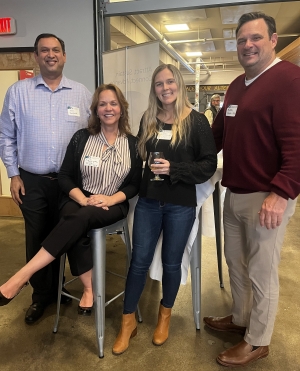 Event Highlights
Image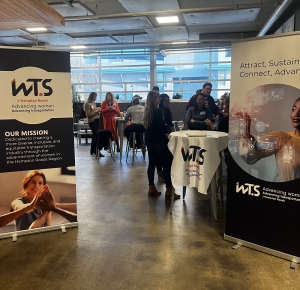 March Smartmouth brewing Company Networking Event
WTS Hampton Road Chapter's first networking event of 2023 was held at Smartmouth Brewing Company, which is located in the heart of the Ocean Front in Virginia Beach. Our members enjoyed a selection of craft beers and coal-fire pizza. This was a great way for our members to casually connect and share goals for the new year. 
March Engineering for Your Financial Future
Image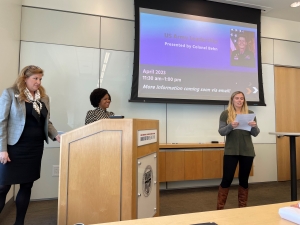 On March 29th, WTS Hampton Roads hosted an event about managing finances at the Innovation Research Park at Old Dominion University. The session featured an interactive conversation with Cheri Green, a  Private Wealth Advisor, and Jenna MacKay, a Vice President and Private Wealth Advisor, who brought their industry prowess and expertise in many areas of financial planning, including client engagement, investment management, and retirement solutions. 
March Southeast Rail Forum 2023:"A Ride for Us" Wednesday, March 22nd- Friday, March 24th
Image

The Southeast Rail Forum was held in Arlington, Virginia from March 22 through March 24. The event focused on rail transportation development from both a federal and regional perspective and featured updates from Amit Base, the director of the Federal Railroad Administration, and members of the Southeast Commission. The event honed in on the Southeast's initiatives to unify the region in their visions and perspectives on rail planning, allowing states and communities throughout the region to experience the economic, societal, and interpersonal benefits associated with rail travel. A series of breakout sessions delivered unique perspectives on relevant industry issues and major projects in the area. The event also featured keynote speaker, USDOT Deputy Secretary Polly Trottenberg, an industry leader with a 25+ year public sector career.
Image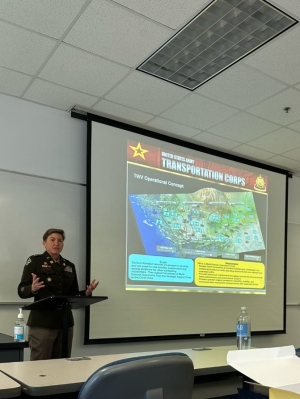 April Speaker Luncheon with the US Army Secretary of Transportation
Colonel Beth A. Behn, the U.S Army Chief of Transportation, lead a presentation on the mission, progress and future of the United States Army Transportation Corps. Even while holding such a high potion in leadership, COL Behn is extremely personable and took the time to meet with members before the event started. Our members left this event with take-aways including success stories of the members of her squadrons over the years, including highlights of the exceptional women on her team. Several times she referenced that you are only as good as your team, and she has led several through combat. She also has promoted several women within her teams, one of which she brought with her to the event. It was very impressive to learn how there are so many opportunities for women to serve in key leadership positions in the Army.
---
Member Showcase 
This month's spotlight is Ilana Hill from Kimley-Horn.  Read below to learn a little more about Ilana and her WTS journey!
Ilana Hill
Image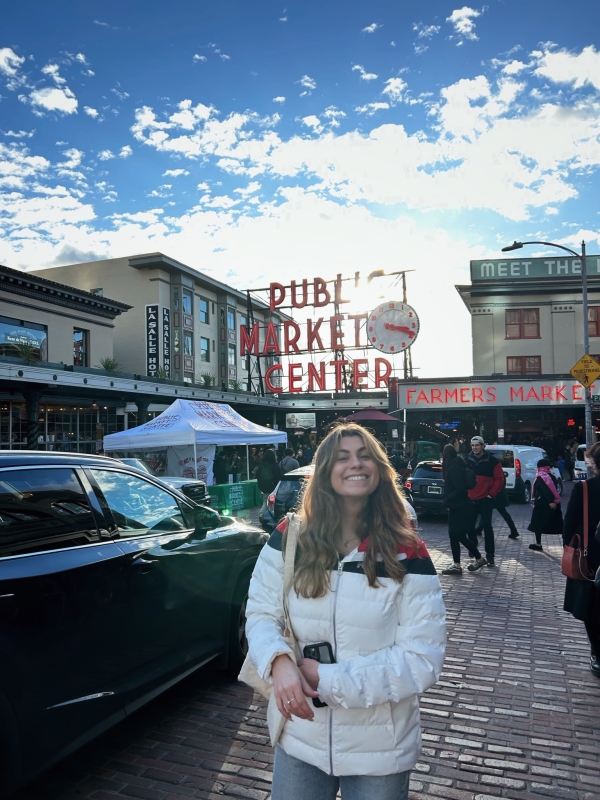 Kimley-Horn
Position/Title at Company - Civil Analyst
Hometown - Port Washington, NY
When did you join WTS? I joined WTS in December of 2022! I started getting involved over the past year by attending events with my partners at Kimley-Horn who were already involved.
Why did you join WTS? I joined WTS because I'm fascinated by the way the transportation industry is growing and changing and how women are facilitating that change. I am mostly involved in site development work at Kimley-Horn, but am really interested in how private and public transportation infrastructure are developing in the Hampton Roads area.
Do you hold a position in WTS HRC or International? What is your role? I am on the WTS HRC Communications Committee!
What do you like best about your job? My favorite thing about my job is the opportunity to work with such passionate and intelligent people, both internally and externally. I like that each day I get to problem solve and think creatively as well as technically.
Favorite project you have worked on - My favorite projects that I have worked on are Atlantic Park in Virginia Beach and the Bon Secours Harbour View Health Center Expansion in Suffolk.
How do you like to spend your free time? I like to spend my free time outside running, playing pickleball, and walking on the beach! I also like going to yoga, painting, and trying new brunch spots.
Tell us an interesting fact about yourself. I have a black belt in Tae Kwon Do.
---
Save the Date - Upcoming Events
WTSI Annual Conference - May 10-12th
JMT Presents: Modular Roundabouts - May 18th
WTSI Capital Summit - June 24-29th