WTS Central Virginia 2023 Spring Newsletter
 What's Coming up in 2023?
 2023 Southeast Rail Forum
Southeastern States Department of Transportation Rail Divisions and the WTS North Carolina Triangle Chapter are jointly hosting a regional forum on rail issues focused on seven Southeastern states. It will be held March 22-24, 2023, in Arlington, Virginia at the Crystal Gateway Marriott. Sponsorship opportunities are now available; click here for more information.
Image

WTS International Annual Conference
The 2023 WTS International Annual Conference will be held May 10-12, 2023, in Atlanta, Georgia and registration is now open! Click here to view the conference program and browse session topics for this year's theme, "The Great Intersection: Transportation and Equity".
Register here. We look forward to seeing you in May!
Kudos Corner
Congratulations to our Scholarship Winners!
Part of the WTS goal of fostering the development of young professionals in the transportation field can be realized by encouraging bright students to undertake careers in the transportation industry. Over the next few weeks, we will be spotlighting the outstanding students who have combined received $2,500 in WTS Central Virginia scholarships. The recipients are listed below.
Anna Slominski

, Illinois Institute of Technology: WTS Central Virginia Molitoris Leadership Legacy Award

Afrida Raida

, University of Virginia: WTS Central Virginia Helene M. Overly Memorial Scholarship

Careeen de Cardenas

, University of Virginia: Jannet Walker-Ford Leadership Legacy Scholarship for Graduates

Katy Miller

, Virginia Commonwealth University: WTS Central Virginia Jannet Walker-Ford Leadership Legacy Scholarship for Graduates and Helene M. Overly Memorial Scholarships
Three of these students were also submitted to WTS International for their consideration. If selected, these scholars will receive up to $10,000 in International WTS Foundation funding to support their studies. These students are engaged in transportation-related programs and are passionate about the betterment of the industry. WTS Central Virginia is honored to support these students and contribute to their education.
Save the Date
Transportation YOU Webinar Series
Image
Transportation YOU is a hands-on, interactive mentoring program that offers young girls ages 13-118 an introduction to a wide variety of transportation careers.
The Central Virginia chapter will be hosting FREE webinar panel events throughout the 2022-2023 and 2023-2024 school years. These webinars are catered to women in grades 6-12, but all interested are welcome to participate! Be on the lookout for this year's upcoming webinars:
Commonwealth Projects: Hampton Roads Bridge Tunnel Expansion and Shenandoah Rail Trail

, March 22, 2023, from 3:30-4:30pm (EST). Learn more and register

here

.

May – High School Introductions to College: Engineering Panel

September / October – Research Council

November – Virginia Space
Winter Recap
February – Transportation Trivia
Image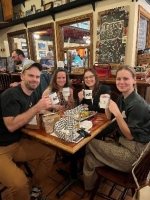 On February 23, 2023, the Central VA chapter hosted a sold-out Trivia event at Legend Brewing! Transportation Trivia Night benefits the WTS Foundation Fund, which provides scholarships to students pursuing transportation-related studies and the Transportation YOU program.
Thanks to all who attended and congratulations to the winning team: The Not So Nice Bridge! Our host, member Lauren Magnotto, delivered an engaging set of questions with a challenging final round featuring airport codes.
March – Lessons from a Career in Public Service
Image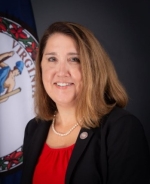 On March 9, 2023, the Central VA chapter hosted a virtual conversation with Jennifer DeBruhl, Director of the Virginia Department of Rail and Public Transportation. Director DeBruhl shared reflections on her career, introspection on being an effective leader, and advice for other women in transportation. 
We are proud to have Ms. DeBruhl as a long-time member and contributor to the Central Virginia chapter, and we are grateful to honor her during Women's History Month.
Sponsorship Campaign
There are still Gold and Silver sponsorship opportunities available! If your firm is interested in becoming a sponsor in 2023, please contact the chapter sponsorship chair, Kaitlyn Jenkins: kaitlyn.jenkins@timmons.com.
Looking to Get More Involved?
March Membership Drive
Not yet a WTS member? During Women's History Month, join WTS and save! From March 1st–31st 2023, receive 15 months of membership for the price of 12 with code WHM2023.
Join a Committee!
Make the most of your membership by joining one of our committees. Committees include communications, sponsorship, membership, programs, scholarship, and Transportation You. If you're interested in taking a more active role within the chapter, please contact our Chapter President, Rebecca Sial, at becca.sial@streetlightdata.com.
Board Meetings
The WTS Central Virginia Board meets the second Tuesday of each month at noon via Zoom! To learn more about chapter business, upcoming events, and committee options, we invite you to check out a board meeting. Dial-in information is below:
Join Zoom Meeting: https://us06web.zoom.us/j/6728450837
Meeting ID: 672 845 0837
Mobile +13052241968
Find your local number: https://us06web.zoom.us/u/keD4FZnKJe
Thank You to our 2023 Corporate Sponsors
Image