WTS Central Virginia 2022 Winter Newsletter
What's Next in 2023?
WTS International Annual Conference
The 2023 WTS International Annual Conference will be held May 10-12, 2023 in Atlanta, Georgia. Click here for a preliminary agenda. Calls for content are now open! Consider submitting presentations, panels, or posters that align with this year's theme, "The Great Intersection: Transportation and Equity".
The deadline for abstract submission was December 16, 2022 and the deadline for posters is January 13, 2023. Click here to learn more about submitting a poster.
 

2023 Southeast Rail Forum

Southeastern States Department of Transportation Rail Divisions and the WTS North Carolina Triangle Chapter are jointly hosting a regional forum on rail issues focused on seven Southeastern states. It will be held March 22-24, 2023, in Arlington, Virginia at the Crystal Gateway Marriott. Sponsorship opportunities are now available; click here for more information.

Image

Congratulations to the 2023 Board of Directors!
The WTS Central Virginia chapter is pleased to announce the 2023 Board of Directors:
President: Rebecca Sial, AICP
Vice President: Stephanie VanDyke, MBA
Treasurer: Julia Simo, P.E.
Secretary: Alexa Overeem, E.I.T.
Directors at Large: Lorna Parkins, FAICP; Unwanna Dabney, Ph.D.; and Caroline Rice, PE, MBA
Immediate Past President: Muriel Rodriguez
Congratulations to this outstanding group of individuals!
Join a Committee!
Make the most of your membership by joining one of our committees. Committees include communications, sponsorship, membership, programs, scholarship, and Transportation You. If you're interested in taking a more active role within the chapter, please contact our Chapter President, Rebecca Sial, at becca.sial@streetlightdata.com.
Annual Sponsorship Campaign
With the new year, we are offering the opportunity to support our chapter through corporate sponsorship. If your firm is interested in becoming a sponsor in 2023, please contact the chapter sponsorship chair, Kaitlyn Jenkins: kaitlyn.jenkins@timmons.com.
Kudos Corner
Welcome to the following new members of the WTS Central VA Chapter!
Lauren Gryctko
Susan Liszeski
Rhonda Mathurin
Alice Ortman
Mary Starr
Kellie Urman
Ginny Kirk Andrews
Intern Alert
Scholarships are Free Money!
The Central Virginia Chapter offers local scholarship awards in the amount of $500 for each of a number of Scholarship categories for eligible recipients ranging from high school girls interested in undertaking careers in transportation; junior college scholarships for women pursuing transportation-related study at community and trade colleges; and scholarships for graduates and undergraduates pursuing degrees in transportation.
WTS's vision is the transformation of the transportation industry through the global advancement of women. To facilitate that goal, the next generation of leaders must be fostered and supported in their pursuits. Our Scholarship Program is one way that we demonstrate support.  Please encourage future leaders in transportation careers and your interns to apply!  Applications are now being accepted and can be found on WTS Central Virginia website here. The deadline to apply is January 20, 2023.
WTS International Scholarships Now Open!
The WTS Foundation awards scholarships to students pursuing careers in transportation through graduate and undergraduate programs. Applications for WTS International Scholarships are available through January 27, 2023. Application materials can be found here.
Nine WTSI scholarships will be awarded at the WTS Annual Conference in Atlanta in May 2023!
Program Recap
September – Annual Reception and Recognition Awards
On September 28, 2022, the Central VA chapter held the Annual Reception and Recognition Awards at the Virginia War Memorial. 2022 Woman of the Year and keynote Speaker Cathy McGhee delivered a captivating and inspiring keynote and we recognized all of the award members for their contributions to the Central VA region. Read about the winners here.
October – Elevating Inclusion Excellence
The WTS Central VA, Charlotte, DC, Hampton Roads, NC Triangle, and South Carolina chapters jointly hosted a Diversity and Equity Event featuring Dr. Katrina Hutchins on October 25, 2022. The virtual session focused on "Elevating Inclusive Excellence" by exploring the research-backed reality that humans have a fundamental need to belong, are incredibly sensitive to their social context, and are strongly motivated to remain in good standing with their social group and avoid social exclusion.
November – Winery Social and Give Thanks Event
Image
Our Jolene Family Winery social was attended by more than a dozen members and friends who enjoyed a tour of the winery operations by General Manager, Sandy Lewis. Attendees sampled wine tastings while enjoying the fabulous waterside view, live music, and making new friends.
Image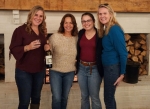 Thank you to everyone that contributed to our November Give Thanks event benefiting Flagler House at St. Joseph's Villa. Through your generosity, our chapter filled two large baskets with household cleaning items, linens, personal hygiene items, etc. These "welcome baskets" were presented to St. Joseph's Villa in December at our Member Appreciation event and will be donated to a family starting off in their new home.
Image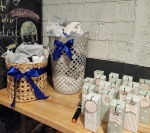 December – Annual Membership Event
Happy Holidays to all our fabulous members! You are the reason 2022 was such a successful year. Active members attending the Annual Membership received a branded gift in appreciation of your support for the Central Virginia Chapter. If you were an active member in 2022 and would like to receive your branded WTS Central Virginia gift, please contact mrodriguez@schnabel-eng.com to coordinate delivery.
Image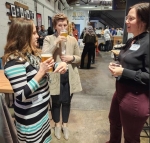 Thank You to our 2022 Sponsors
Image