Image

WTS Foundation 2021 Scholarship Award Recipients Share Their Stories
Each year, the WTS Foundation awards scholarships to young women who are pursuing careers in transportation through undergraduate and graduate programs. This year, we asked our 2021 Scholarship Recipients a few questions for WTS Members to get to know them better.

Tingyu Li, recipient of the WTS Molitoris Leadership Scholarship for Undergraduates: "I will be embarking on a year-long journey to Beijing, China as a Schwarzman Scholar. I hope to ... [gain] more exposure to public policy and decision making."

Veronica M. Bean, recipient of the WTS Paula Hammond Leadership Legacy Scholarship: "I'm currently working at the City of Auburn, WA, as the Transportation Technician, and work a lot with residents to address their transportation-related concerns."

Nneoma Ugwu, recipient of the WTS Helene M. Overly Memorial Scholarship: "My current research aims to address the in equity, accessibility, and climate change issues related to Electric Vehicles (EV)."

Learn more about all of the amazing October Scholarship Recipients by accessing the article!
2022 - 2024 Board of Directors Nominations
Image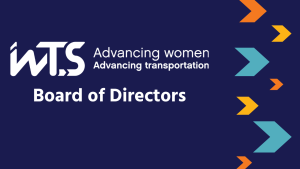 WTS is seeking candidates for both the WTS International Board of Directors and the WTS Foundation Board of Directors! These board members will begin serving at the 2022 Annual Conference in May.

Applications are due by November 7, 2021. More information regarding the responsibilities, general qualifications, and the statement of interest form can be found here!
2021 Chapter Leadership Development
Image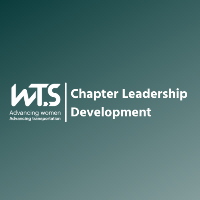 November 18 - 19, 2021. Join us this fall for Chapter Leadership Development! This virtual program will focus on professional development for WTS chapter leaders with sessions on: Understanding Roles and Responsibilities of Board Members + Succession Planning, Best Practices in Event Planning + Hotel Contract Negotiation, Herding Cats: Working within All Volunteer Organizations, Burn Out: How to Prevent and What to do When it Comes and so much more!

Register here.
2021 Entrepreneurship Webinar Series
Image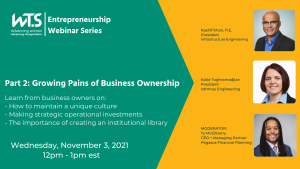 Register and join us for Part 2 of the WTS Entrepreneurship Webinar Series, where our esteemed speakers will discuss growing pains and best practices of business ownership!

Register here. 
Giving Tuesday
Image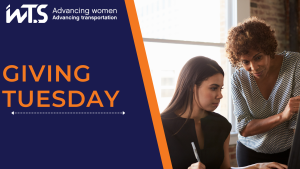 Through the generosity of thousands of WTS supporters, the WTS Foundation has provided millions of dollars in scholarships to deserving women and students throughout the transportation industry.

This year's Giving Tuesday on November 30, 2021, consider donating to support and encourage the next generation of diverse female leaders in their academic careers so they can truly make a difference in transportation.

Donate here. 
MyWTS Communities
Image
This month, we're highlighting MyWTS Communities, our own exclusive open forum that encourages collaboration with all chapter members and leaders! MyWTS Communities prioritizes sharing ideas and thoughts regarding chapters and the transportation industry overall.

We encourage all of our Chapter Leaders and Members to be active on MyWTS Communities - you never know what connections you'll make or who you will be able to learn from!

Find out more here.
Image

Paula Hammond elected Senior Vice Chair of the American Road & Transportation Builders Association (ARTBA) Board of Directors

Denise Berger selected to be a member of the exclusive National Academy of Construction at the Broadmoor in Colorado Springs
 
Image

FTA Announces Request for Information on Transit Worker Safety
FTA

DOT Announces $3.5 Million Funding Opportunity for Innovative Coordinated Access and Mobility Grants
DOT
 
FAA Invests $479.1 Million in Safety, Sustainable Infrastructure at Airports
FAA

DOT Unveils its Climate Plan to Head Off Severe Weather Impacts to Infrastructure
DOT
Thank you to our Strategic and Trailblazer Partners
Image

View all WTS Corporate Partners here.