Women's History Month 2023: Celebrating Our WTS Stories
Image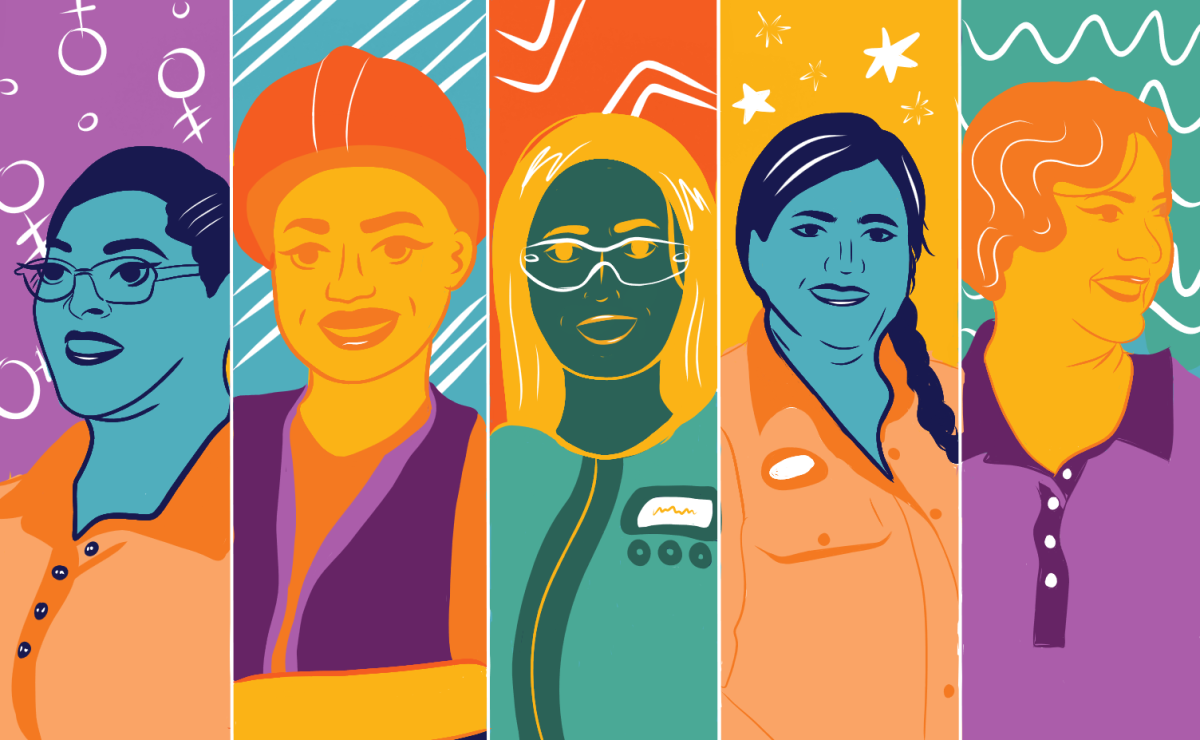 © Sarah Castillo
---
Symbolizing WTS International: Sarah Castillo
Image
Sarah Castillo worked as an intern for WTS International in the spring of 2022. She recently graduated with a degree in Graphic Design from George Mason University. Her senior project was titled In the Meadow, designing a brand concept for a fictional music festival. For Women's History Month 2023, WTS asked Sarah to produce original artwork to celebrate the month – you'll see this in our emails, featured on our social media, and soon to be hanging in the WTS International headquarters office!  Sarah's wrote about this work, "This work contains a panel of diverse women showcasing different roles in transportation. The diversity is symbolized diversity by showcasing the characters themselves in a variety of monochrome WTS colors. This piece holds the same values WTS stands for and represents what International Women's History Month stands for: A hardworking, vibrant group of the population: women!" 

You can buy items with Sarah's work at the WTS ProShop.
---
March 3rd | WTS International President and CEO, Sara Stickler
Read our March "Letter from the Leadership" as WTS President and CEO, Sara Stickler, offers her insight on Celebrating Our WTS Stories during Women's History Month.
 
March 8th | Distinguished Speaker Series: Missy Cummings
Join us on International Women's Day to hear from Dr. Missy Cummings: professor, naval fighter pilot, and autonomy and technology expert.
 
March 14th | Equal Pay Day
This symbolic day denotes how far into the year women must work to be paid what men were paid the previous year. Equal Pay Day 2023 is on March 14 to represent the current state of the gender pay gap: 83% for full-time workers and 77% for all workers.
 
March 15th and 16th | WTS Spring Policy Symposium
Register now for our 2023 Spring Policy Symposium in Washington, D.C. to hear from industry executives and leaders on important topics affecting transportation today.
 
March 17th | Latinos in Transit Cafe Con Lit 
WTS President & CEO Sara Stickler joins Latinos in Transit's monthly Cafe Con Lit program.
 
March 22nd | Eno Transportation Weekly Guest Editor - Jannet Walker Ford, WTS International Board of Directors Chair
WTS International Board of Directors Chair Jannet Walker-Ford serves as the Guest Editor for Eno Center for Transportation's special edition of ETW: Women Take Over the week of March 20th.
 
March 27th | WTS Member Meetup
Current members, join us for our monthly Member Meetup! These virtual events are designed for networking and collaboration on topics such as 2023 Chapter events and initiatives; innovations in the transportation industry; recruitment and retention; and more.
 
March 30th | WTS Executive Member Charette
Open to WTS Executive Members, WTS Executive Charettes are opportunities to present career and personal challenges to peers for feedback, coaching, and advice.
 
Month of March | WTS Membership Drive:

"Celebrating Our Talents; Celebrating Our Stories"


Not yet a WTS member? During Women's History Month, join WTS and save! From March 1st–31st, receive 15 months of membership for the price of 12 with code WHM2023. WTS Chapters can find out more and download their own Membership Campaign Toolkit in MyWTS Communities. 
 
Month of March | WTS Members Share Their Stories on Social Media
Are you a WTS Member who has a story to share? Join us in celebrating WHM — and celebrating you. Read our members' inspirational stories here.
 
Around the Industry
WTS President and CEO Sara Stickler will be a featured guest on this month's episode of the InfraTalk America Podcast.