WTS Hampton Roads Chapter Newsletter - Winter 2022
This year has been one to remember and as 2022 comes to a close, we are so excited to take a look back on some events and people who have made our chapter so special. A big shout out to everyone involved in making our 12th annual reception a success!
- WTS HRC Communication Committee
---
Letter from Leadership
Image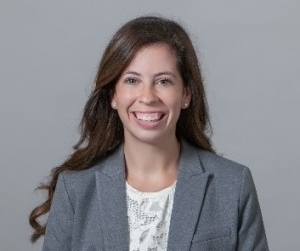 Happy Holidays! It has been an honor to serve as our Chapter President for the past two years. As I look back, I am proud of our success as a chapter and look forward to our opportunities in 2023.
In November, we celebrated our WTS HRC 12th Annual Reception and Silent Auction. I would like to thank Anna Bonet, CEO of Elizabeth River Crossings, for serving as our keynote speaker. It was a joy to celebrate this year's sponsors, award winners and scholarship winners. Best of all, the event raised $4,967 towards our scholarship foundation.
I would like to congratulate our incoming Chapter President, Carly Goldsborough, PE. Carly has served as our membership chair for several years and is also a former scholarship winner. She is truly a testament to the success of the mission of our Chapter – to attract, sustain, connect and advance women's careers to strengthen the transportation industry. I would also like to welcome our incoming Vice President Kodi Berger, Secretary Noelle Pinkard, Programs Committee Chair Jamie Kiser, Membership Chair Stacey Higgins, Corporate Sponsorship Chair Sara Keranakis, Communications Chairs Nikki Russo and Celene Exume, Scholarship Chair Jordan Olson, Recognition Chair Carley Brierre, and STEM Outreach Chairs Karen McPherson, Grace Shen and Jennifer Evans. This year we are also welcoming three Directors at Large, Deanna Nevling, Paula Miller and Claudette Lajoie, who will guide our Executive Board as longstanding pillars of our Chapter.
With the coming year, now is the perfect time to make a renewed commitment to your career and professional development by getting involved in any of our committees! On January 18th, 2023, we will be hosting our Annual Planning meeting to put our programs and committee initiatives into motion – this is a great opportunity to learn about our Chapter and become more involved. 
With sincere gratitude and my warmest wishes for the holiday season,
Emily Hinkson
---
Scholarship and Recognition Award Nominations - Available Now!
We are now accepting scholarship applications and recognition award nominations. There are six awards and six scholarships available. Get your nominations and applications in by January 6. More information can be found on the Hampton Roads Chapter Scholarship Program page and the Hampton Roads Chapter Recognition Awards page.
---
Event Highlights
September Hampton Roads Transit Electrification Tour
Image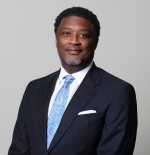 Image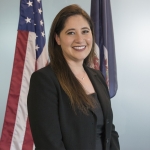 You might be shocked to hear about all the exciting service upgrades beginning this fall as part of the new regional Hampton Roads transit service, the "757 Express." The luncheon event included a presentation by William Harrell, President & CEO of Hampton Roads Transit, on the critical role public transportation plays in our region's economy. Immediately following the presentation, attendees got an exclusive behind-the-scenes tour of HRT's electrification infrastructure given by Sibyl Pappas, Chief Engineering and Facilities Officer.
October Chesapeake Bay Bride - Tunnel Project Update
Image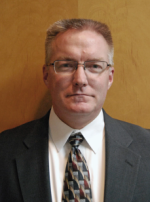 On October 12th, Michael Crist presented on the current progress of the Chesapeake Bay Bridge-Tunnel Project. Michael is the Deputy Executive Director of Infrastructure for the CBBT District. His presentation on the CBBT's Parallel Thimble Shoal Tunnel covered the history of the CBBT's construction and infrastructure since its opening in 1964. He provided an in-depth explanation of the current project, which consists of the construction of proposed parallel southbound tunnels, to allow the existing tunnels to only serve northbound traffic. He discussed the boring technology being implemented in this construction, as well as the measures put in place to keep the CBBT functional and keep construction efficient. The event was well-attended, and it was held in the Clark Nexsen office in Town Center, Virginia Beach.  
Image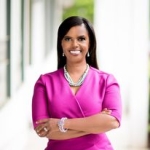 October Virtual Joint Chapter Elevating Inclusion Excellence
The theme of this joint chapter event was "Elevating Inclusive Excellence" where Dr. Katrina Hutchins ("Dr. K.") explored the research-backed reality that humans have a fundamental need to belong, are incredibly sensitive to their social context, and are strongly motivated to remain in good standing with their social group and avoid social exclusion. Dr. K is the President & CEO of Re-Source Solutions, a personal and professional growth and development company. As a certified executive coach, consultant, inspirational speaker, author, professor, and philanthropist, Dr. K has gained decades of experience in corporate, governmental, higher education, philanthropic, non-profit, and faith-based sector
December Blanket Making for Charity  
One of our chapters favorite way to enjoy the holiday season is by enjoying pizza and fellowship while expressing our creativity for a worthy cause. Members of all craftiness levels met at the ODU campus to created cozy blankets for children and adult residents of St. Mary's Home for Disabled Children.
Image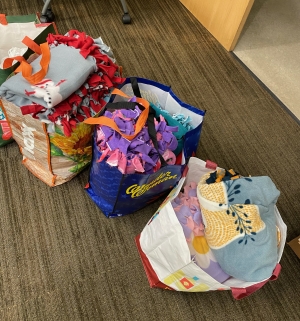 Image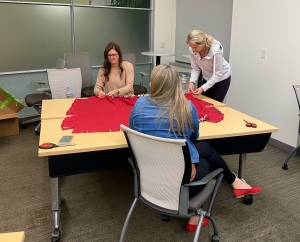 Highlights from the 12th Annual WTS HRC Transportation Reception
The Twelfth Annual Transportation Reception was held on November 8th at Waterman's Surfside Grille in Virginia Beach. The event was a wonderful opportunity to reflect on a year of events and progress for our WTS chapter, as well as an opportunity to recognize the contributions of our chapter's leadership and reward recipients. The event was also a great opportunity to look towards the future by revealing next year's leadership board, honoring scholarship recipients, and raising money for the WTS Foundation through donations and a Silent Auction. One highlight of the event was an engaging speech by Anna Bonet, CEO of Elizabeth River Crossings. She discussed her career journey and experiences as a woman in transportation.  
The award recipients for the evening included Carly Goldsborough as Member of the Year, for her admirable efforts in expanding chapter membership and making everyone feel welcome. Cathie J. Vick was honored as Woman of the Year, for her outstanding work and positive impacts as the chief development and government affairs officer for the Port of Virginia. Brian Stickles was the recipient of the Honorable Ray Lahood Award for his commitment to supporting the women in his workplace. Dominion Energy was awarded the Rosa Parks Diversity Award for their focus on D&I initiatives through their internal practices and the way they serve their clients. 
Image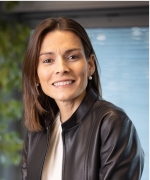 Thank you to our speaker!
Anna Bonet 
Chief Executive Office, Elizabeth River Crossings
Congratulations to our 2022 Scholarship Winner!
Image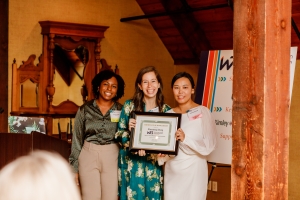 Xiaomeng Dong
Helene M. Overly Memorial Scholarship (Local)
Currently pursuing Doctoral Degree in Transportation Safety at Old Dominion University, expecting to graduate May 2023

Serves as Graduate Research Assistant and Graduate Teaching Assistant at Department of Civil & Environmental Engineering

Recipient of ODU Graduate Enhancement Award in 2021

Strong supporter of Vision Zero
Congratulations 2022 Recognition Award Winners!
Image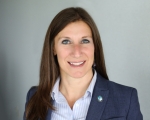 Cathie J. Vick, Port of Virginia 
Woman of the Year
Image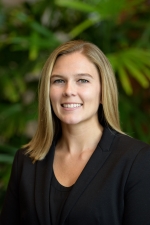 Carly Goldsborough, JMT
Member of the Year
Image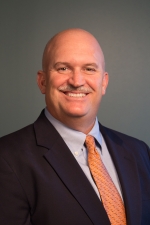 Brian Stickles, JMT
Honorable Ray Lahood Award
Image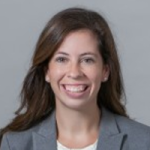 Emily (Seay) Hinkson, HNTB
WTS HRC Immediate Past President Award (2021-2022)
Image

Dominion Energy 
Rosa Parks Diversity Award
Check out our Chapter Photo Gallery page for more event photos!
---
Welcome Incoming 2023-2024 Board & Committee Chairs
President - Carly Goldsborough, PE (JMT)
Vice President - Kodi Berger, PE (Kimley-Horn)
Secretary - Noelle Pinkard (HRT)
Treasurer - VACANT
Past President - Emily Hinkson, PE (HNTB)
Southern Region Advisory Council - Debbie Cooley (CBBT)
Programs Committee - Jamie Kiser (RK&K)
Recognition -

Carley Brierre (

Elizabeth River Crossings)
Membership - Stacey Higgins (Burns & McDonnell)
Corporate Sponsorship - Sara Keranakis, PE (JMT)
Communications - Niki Russo, EIT & Celene Exume (Kimley-Horn)
Scholarship - Jordan Olson (RK&K)
STEM Outreach - Karen McPherson, PE, PTOE (McPherson Consulting), Jennifer Evans, PE (Michael Baker), & Grace Shen, PE (Michael Baker)
Directors at Large - Deanna Nevling, PhD, PE (HDR), Claudette Lajoie, PhD (Solstice Environmental), & Paula Miller (Dominion Energy)
Thank you to our 2021-2022 Board and Committee Chairs for all of your hard work!
Interested in joining one of our Committees? Contact us at w[email protected]
---
Member Showcase 
This month's spotlight is Sara Keranakis from JMT.  Read below to learn a little more about Sara and her WTS journey!
Image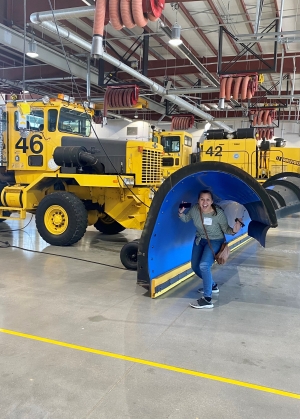 Sara Keranakis
JMT
Position/Title at Company - Transportation Design Engineer
Hometown -Born and raised in Oxford North Carolina and moved to Virginia Beach after graduating from college.
When did you join WTS? 2018
Why did you join WTS? After attending a membership drive event at the Wasserhund Brewery, I got invited to the Annual Open Board breakfast. At the breakfast I got to meet a lot of the women and men involved in this organization and thought it would be a fantastic way to network.
Do you hold a position in WTS HRC or International? What is your role? Yes, I am currently serving as WTS's Corporate Sponsorship Chair. In this position I have the responsibility to ask firms to support our chapter with their annual sponsorship and event sponsorships.
What do you like best about your job? As a roadway engineer, I really enjoy 3D modeling our projects. Being able to see a project in 3D allows us to better understand how the final design will look and also highlight potential conflicts along the way. I have also had the privilege to train people in the 3D modeling software, both clients and in-house staff.
Favorite project you have worked on - It is very hard to just pick one project because they are all so unique so I will talk about my favorite types of jobs. I really enjoy working on brand new offline roads or sidewalk jobs. These types of project truly allow me to be creative in my design layout. I have had the opportunity to work on a variety of jobs in many different states including Virginia, North Carolina, South Carolina and Texas.
How do you like to spend your free time? In my spare time I enjoy hanging out with my friends and family and of course spending time on the beach.
Tell us an interesting fact about yourself. I am a huge Marvel cinematic fan. I enjoy binge watching all of the movies and TV shows.
---
Looking Ahead - Upcoming Events
As you start turning your calendars for the new year, don't forget to save the date for these upcoming chapter and WTS international events:
Interested in sponsoring one of our next events? Contact our Corporate Sponsorship Committee.