WTS Hampton Roads Chapter Newsletter - Summer 2022
Summer is heating up and so is the WTS Hampton Roads Chapter! Our members have been up to a lot these past few months and we are so excited to share all of these amazing events and accomplishments! 
- WTS HRC Communication Committee
---
Letter from Leadership
Image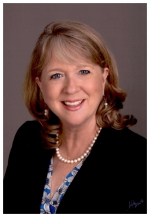 "Faster than a speeding bullet…"  While summer seems to be sailing by at warp speed, WTS-Hampton Roads Chapter hasn't missed a beat when it comes to activities and inspiring speakers.
We were fortunate to welcome newly appointed Virginia Secretary of Transportation Shep Miller as the keynote speaker for our annual June Transportation Reception. He shared some lighter moments from his first six months on the job, including highlights of a trip to a local DMV office where his protracted wait for a rather simple transaction helped lead to some changes that have already improved customer service and curbed wait times.
The Secretary also spoke of his administration's commitment to keeping projects moving on time and on budget, and he referenced accomplishments of the new High Rise Bridge in Chesapeake which is open to westbound traffic, as well as progress being made on the HRBT Expansion project and preparations for boring two new twin tunnels.
Secretary Miller was joined on stage by VDOT's new Chief Deputy Commissioner Cathy McGhee who was appointed to her position in May after more than 30 years of experience in traffic engineering, including service as Director of the Virginia Transportation Research Council.
Image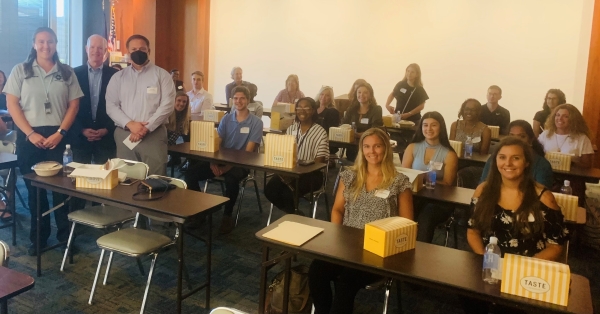 Shifting gears, in July about 30 WTS-HRC members, as well as several summer interns from area project offices, discovered before flying the friendly skies, crews at Norfolk International Airport go to great lengths to make sure runways are free of animals, debris or anything that may impede wheels up to their final destinations.  The chapter organized a lunch-and learn session with airport executives and facility managers before participants boarded buses for a fascinating behind-the-scenes look at airport operations and facilities that make it possible for daily passenger and cargo arrivals and departures.  COVID-19 did not put the brakes on operations at Norfolk International!
Meanwhile, plans are underway for a deep dive into the latest assembly operations for the tunnel boring machine (TBM) as part of the HRBT Expansion project.  Director Jim Utterback will provide the chapter with a peek at a new project video and share details of the work underway at both the North and South islands.  Plan to join us to learn more about VDOT's largest-ever construction project.   Details for our August event will be emailed in the coming days.
We're excited to welcome several new members to our chapter this summer, and we encourage anyone interested in serving on committees or in leadership roles to please reach out to any of our members for more information.  We are always looking for new programming ideas and membership volunteer opportunities.
Respectfully,
Paula Miller, Vice President
---
Annual Conference 
The Annual Conference was held May 18-20 in Seattle. Thank you to all who attended, and don't forget to get your CM credits!
Image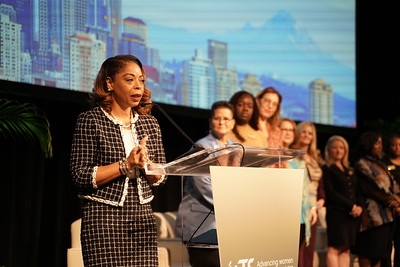 Image
---
Event Highlights
March Women in History Luncheon
The Central Virginia Chapter hosted two prominent Virginia transportation executives Ana Bonet, CEO of Elizabeth River Crossings, and Kathleen Linehan, President of Alpha Corporation for a virtual panel event on March 22, 2022.
Image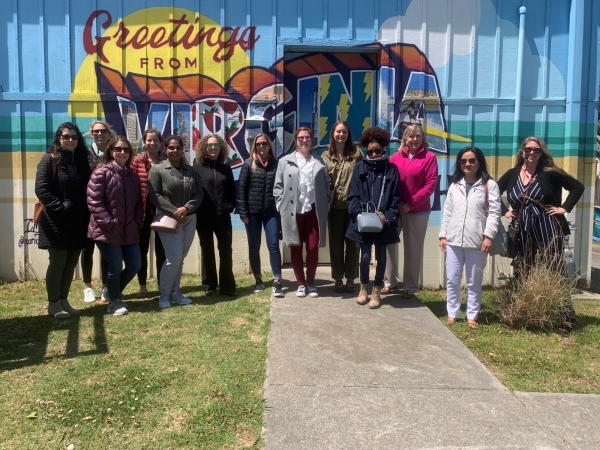 They both shared their reflections on leadership as women in the transportation industry. The virtual event included pre-recorded lectures as well as a virtual panel discussion. A recording of the full program can be found on the chapter's YouTube channel.
April Vibe Tour 
This Spring our chapter invited members to participated in a walking tour of the Virginia Beach ViBe Creative District to learn how the incorporation of art into infrastructure can help the community and businesses flourish. The ViBe District is a neighborhood nestled between the busy streets of the Oceanfront District and serves as a vibrant center that encourages local creatives to inspire each other, their craft and their community.
Some of the highlights of the tour included murals by local artists, urban gardens, and the creative crosswalks unique to the ViBe. Learn more about the ViBe district and future events here. 
Image
May Diversity Panel 
The Diversity, Equity and Inclusion (DEI) Panel Luncheon featured several industry leaders who strive to promote DEI changes in their workplace. They shared methods that they have put into practice to break through barriers in the workplace and provided perceptive answers to difficult questions pertaining to their respective fields and experiences. This was a very meaningful event for our chapter since it is our mission to create a more diverse, inclusive and equitable industry through the advancement of women.  Thank you so much to our presenters!
Pictured from left to right:
My Lan Tran, CED, CITS, CVET - Executive Director of the Virginia Asian Chamber of Commerce
Danielle R. McCray, PE - Kimley-Horn Project Manager for the Virginia Transit Equity and Modernization Study
Dr. Alvean F. Lyons - Relationship Expert and Leadership Consultant
Oneiceia Howard - City of Norfolk Division Head for Neighborhood Engagement
Queen T. Crittendon - VDOT Hampton Roads District Civil Rights Manager
Emily Seay, PE - WTS HRC President
Image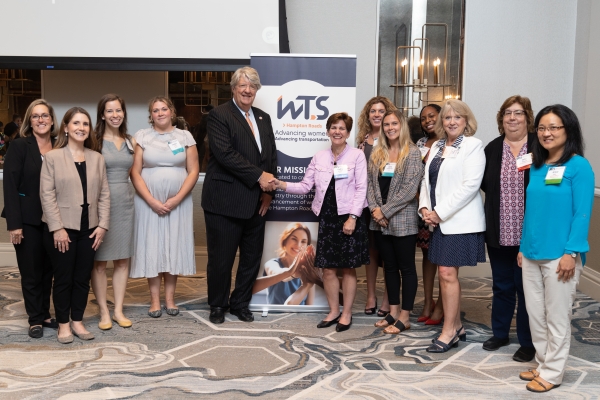 June Transportation Reception 
This June, our chapter had the honor of hosting the Secretary of Transportation for the Commonwealth of Virginia W. Sheppard "Shep" Miller III and VDOT Chief Deputy Commissioner Cathy McGhee for a reception and wine raffle at the Hilton in Downtown Norfolk. Miller discussed upcoming infrastructure plans and priorities of his administration, and he delved into some of his thoughts on the future of transportation overall. McGhee spoke about her experience leading VDOT's research program on connected and automated vehicles, giving insight into how autonomous and semi-autonomous vehicles have shaped the transportation industry and the way we drive.
Image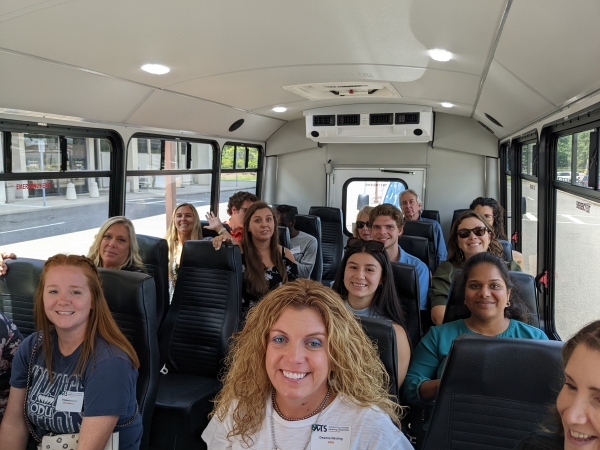 The event concluded with a Wine Raffle benefiting the WTS Scholarship Foundation, awarding scholarships to support the next generation of women in transportation. Thank you to all who contributed and congratulations to the raffle winners!
July ORF Tour 
This was one of the most anticipated events of the summer as tickets sold out shortly after it was announced! Our chapter had a blast exploring the Norfolk International Airport (ORF) and enjoying lunch along with a presentation on the critical role that the airport plays in our region's economy and the challenges of operating an airport. A big thank you to the Director of Facilities, Jeff Bass and Lacy Dickenson for leading the behind-the-scenes tour!
---
Upcoming Elections 
Our board and committee members work hard to grow and enrich our chapter with continuing education, networking opportunities, and memorable events. We are looking to grow our leadership team and foster new ideas! Call for nominations will be sent in August, so start thinking now! Elected board positions consist of Chapter President, Vice President, Secretary and Treasurer. For a detailed list of responsibilities or to just express interest please email our primary email (wts.hrc@gmail.com), or reach out to the current committee chair(s) on our Chapter Leadership page.
---
July Member Showcase
This month's spotlight is Niki Russo from Kimley-Horn.  Read below to learn a little more about Niki and her WTS journey!
Niki Russo
Image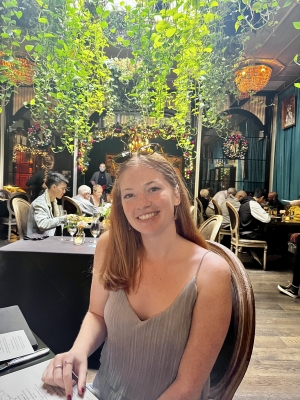 Kimley-Horn
Position/Title at Company - Civil Engineering Analyst 
Hometown - Hamilton, New Jersey 
When did you join WTS? 2020
Why did you join WTS? My senior year at University of Maryland (Go Terps!) I received the Women's Transportation Seminar DC Chapter (WTS-DC) ­­­­­­­­­­­­­­­Undergraduate Scholarship. I attended their annual holiday party to receive this honor and, although it was virtual, I could sense that this was a welcoming community that I wanted to be a part of. When I moved to Virginia Beach after graduating, I was lucky enough to continue my involvement here with the Hampton Roads chapter.
Do you hold a position in WTS HRC or International? What is your role? Kodi recruited me last fall to help as a Communications Committee member. I run the website where I post upcoming events, updates and photos! And yes, I did write this newsletter :)
What do you like best about your job? I really enjoy being a part of a project from all stages and watching a concept turn into a final deliverable. 
Favorite project you have worked on - As of now, my favorite project was compiling a Rebuilding American Infrastructure with Sustainability and Equity (RAISE) grant application for the City of Portsmouth. I really enjoyed combining my technical and communication skills into a product that would help support a community. 
How do you like to spend your free time? My latest hobby has been playing pickleball after work at the park across from my house, but you can also find me on the bay at sunset on my paddle board. 
Tell us an interesting fact about yourself. I hiked a volcano in Guatemala as one of my spring break trips in college. 
---
Coming this Fall...
Our committees are hard at work planning some very exciting events for this fall! Stay on the look out for updates on the website and E-blasts! 
Image
Hampton Roads Transit (HRT) Electrification Lunch and Tour - September 20
Registration is now open!
Virtual Joint Chapter Diversity Event - October 25
Annual Reception and Awards Banquet at Waterman's - November 8
The event's keynote speaker will be Anna Bonet, CEO of Elizabeth River Crossings