WTS Central Virginia 2020 Summer Newsletter
Message from the President
Image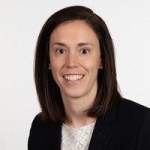 Over the past few months, we have all adapted to a new normal. For many this meant wearing a mask, working from home, and spending more time virtually connecting with family, friends, and colleagues. It also may have meant home schooling children and making more homecooked meals (or in my case, lots of chocolate chip banana bread). For almost all of us, it meant changes to our daily transportation. In the past three months, I only filled up my gas tank once and didn't take any trips via airplane, train, or bus. While I missed being able to travel to some of the places these modes of transportation would have taken me, I found I had a lot more time to embrace active transportation. Saturday morning bike rides and lunchtime walks became part of my new normal.
The WTS Central Virginia Chapter has been adapting to a new normal as well. We were happy to see many of you at our first virtual happy hour in April. In May, we celebrated bike month with a social media challenge encouraging members to share photos of Central Virginia locations visited on bikes. We were excited to be joined in June by Perry J. Miller, Capital Region Airport Commission President and CEO, for our first virtual webinar where we learned about recent developments at Richmond International Airport (RIC), the impact of COVID-19 on travel, and future plans for the airport.
Although travel restrictions meant that the 2020 WTS Annual Conference, which had been scheduled for May in Phoenix, Arizona, was cancelled, we virtually connected with other WTS chapters for the Annual WTS International Board Meeting and to celebrate the release of the new WTS brand. Two pieces of exciting news for the Central Virginia Chapter came out of this virtual meeting. First, the Central Virginia Chapter was recognized as a Gold Chapter, the highest designation given, in the WTS International Circle of Excellence program. Secondly, Richmond was announced as the host site for the 2021 WTS Annual Conference. Planning is already underway, and we are very excited to welcome our WTS friends from other chapters to Richmond in May of 2021.
I hope that you are enjoying your summer. Thank you for your continued support of the WTS Central Virginia Chapter and for being part of our new normal. Be on the lookout for communications on upcoming virtual events. I hope to see you soon!
Sarah Sciarrino, WTS Central Virginia Chapter President
---
Central Virginia Connects Virtually
Image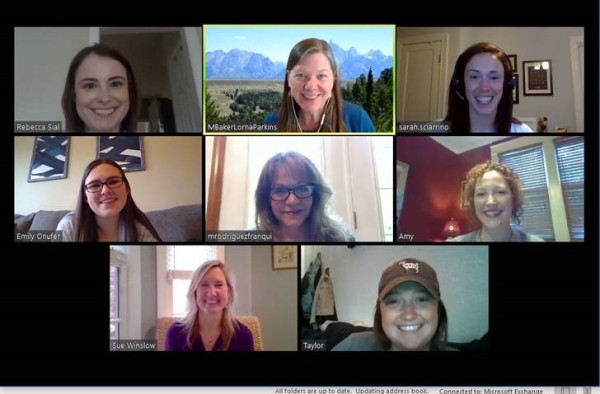 The coronavirus pandemic has presented a barrier for in-person networking, but that hasn't stopped our members from connecting virtually. Members joined together for the chapter's first virtual happy hour in April, and the event was such a success, we hosted another event on July 22. The group connected over video to catch-up on life away from the office and new hobbies.
Weren't able to make the event? Be on the lookout for additional virtual events this year!
---
Developments in Aviation and at RIC Program Recap
Image
On Tuesday, June 16, we hosted a virtual event to hear updates on recent developments at Richmond International Airport (RIC) and in aviation. Perry J. Miller, Capital Region Airport Commission President and CEO provided an update on projects at RIC, the impact of COVID-19 on travel, and plans going forward. He also recapped the airport's 2019 performance, which included an all-time record number of passengers, a record-setting amount of cargo in two decades, and steady growth in operations despite consolidation. 
---
WTS International Update
Message From the WTS Board Chair and Executive Director
Board Chair, Paula Hammond, and Executive Director, Sara Stickler, addressed the WTS Community last month in regards to the global pandemic, diversity and inclusion initiatives, collaboration with industry allies, and transparency. Read the letter here.
The 2021 WTS International Conference is Coming to Richmond, VA
WTS International announced the 2021 conference details during the WTS Annual Business Meeting. The 2021 conference, themed "Activate and Elevate Our Future in Transportation," will be held at the Richmond Convention Center May 12-15, 2021.
The Conference Local Leads are still looking for enthusiastic members to join in their effort in making the conference all that it can be. Do you want to help plan/host the event? The following committees need your help:
Foundation/Raffle Committee: The Committee Leads should enjoy communicating with vendors to solicit raffle items. This committee is also responsible for collecting items from each WTS Chapter and selling raffle tickets at the conference.
Learn about the other committees here.
---
What's New with Transportation YOU 
Full Steam Ahead Conference
Our chapter will be leading a workshop for the Full Steam Ahead Virtual Conference in early August. Full STEAM Ahead is an event for middle school girls, rising 6th through rising 9th graders, in the Greater Richmond Area organized by CodeVA. The conference mission is to connect girls with female role models through engaging hands-on workshops.  
Our workshop, Mythbusters - Exploring Transportation, is a hands-on workshop that will challenge participants to think outside the box and work together to solve real-world problems.
---
Where Are They Now? Central Virginia's First Recipient of the Overly Memorial Scholarship: Martha Gross
Image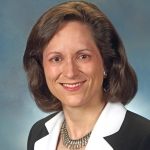 Ten years have passed since we featured Martha Gross in the April 2010 chapter newsletter as a recipient of the WTS Foundation's 2010 Helene M. Overly Memorial Scholarship.  We recently caught up with her to learn how her career has developed since then.
Upon receiving this scholarship, Martha was a mid-career graduate student who had returned to college after working as a construction engineer and manager with the transportation contractor Skanska.  Although previously having earned BS and MEng degrees in structural engineering, she had grown increasingly intrigued by how we pay for what we build, realizing major infrastructure projects are typically not hindered by technical challenges but rather by funding challenges.  With Virginia Tech offering an opportunity to focus her graduate studies in the field of transportation finance, she enrolled there in 2007 for a PhD in civil engineering, eventually defending her dissertation on "Aligning PPP Contracts with Public Objectives for Transportation Infrastructure" in 2010 and earning an MBA in 2011.   
Martha recounts an anecdote from her first presentation to her Virginia Tech doctoral committee, where she proposed a dissertation topic combining transportation, construction, policy, and finance.  One professor on the committee chided her: "This proposal is not an appropriate focus for engineering studies.  I suggest revising your topic to focus on more traditional subject matter in this field."  A lively debate ensued, with the conclusion that if engineers were to decline involvement in complex issues that intersect with related fields, the profession would lose its voice to representatives of those other fields who are quite willing to engage in engineering-related matters.  Martha kept her proposed topic.
Image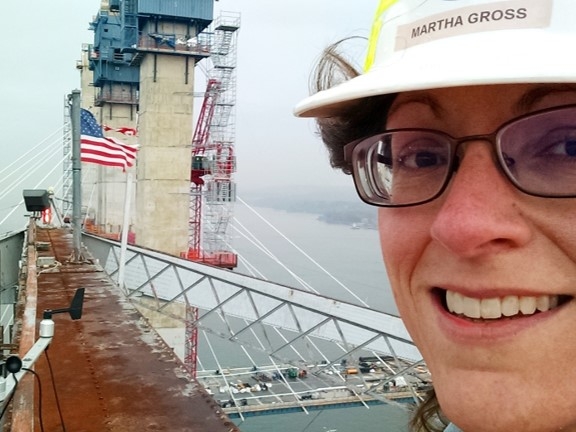 After completing her studies in 2011, she joined the consultant firm Arup in Washington, DC, working initially in their PPP transaction advisory group as independent engineer on the I-495 Express Lanes and lender's technical advisor for the Downtown / Midtown Tunnel procurement.  She moved to New York in 2012, serving as procurement advisor for the state's first design-build project, the $3.1 billion Tappan Zee Bridge replacement, where she later worked on site as the owner's deputy commercial director.
In 2016, Martha returned to Virginia to assume the role of Major Projects Manager for VDOT's Hampton Roads District, responsible for delivering regionally-funded projects in the Hampton Roads Transportation Accountability Commission portfolio.  She led VDOT's development of the Hampton Roads Bridge-Tunnel Expansion, a $3.3 billion design-build contract which was awarded in spring 2019 and is now under construction.  Currently she is working on site as VDOT's technical director for this project, focusing on successful delivery of the agency's first bored tunnel, with twin 46-foot-diameter tubes 1.5 miles long beneath the Virginia harbor. 
As a volunteer, Martha serves as national chair of the NCEES Civil / Construction Engineering subcommittee for developing the PE licensure exam, as well as a member of the Transportation Research Board's national Standing Committee on Contract Law.  She also serves on advisory boards for Virginia Tech's civil engineering department and the Cornell Program in Infrastructure Policy.  Throughout these experiences, Martha remains grateful for the support WTS has provided in advancing her studies and career.
---
Kudos Corner
Welcome to the following new members of the WTS Central Virginia Chapter:
Sudha Mudgade, VDOT
Michelle Bolding, Schnabel Engineering
Hope Custer, Greater Lynchburg Transit Company
Jamie Mote, Kimley-Horn
Congratulations to Lorna Parkins, 2021 WTS International Conference Co-Chair, for being welcomed into the American Planning Association College of Fellows, the highest honor bestowed upon a member of the American Institute of Certified Planners. 
---
Thank you to our Annual Sponsors
Sponsor Spotlight
Spotlights on our website are offered to Benefactor and Platinum-level sponsors. Take a look at this year's Sponsor Spotlights:
2020 Annual Sponsors
Image