WTS Annual Conference 2019: The Hub of Ingenuity
The WTS Conference transformed into a hub where transportation leaders exchanged ideas and learned about the latest developments in the industry.
It was a chance to learn, network, and connect with individuals with the same passion for excellence. Thank you to all those who came to Boston and participated in our sessions, panels, workshops, tours, and so much more.  
Highlighting Hands-On Learning
Image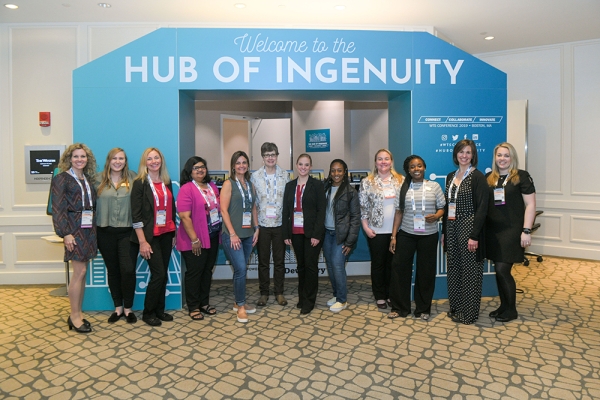 Pre-Conference was a time to hear from one another and to share perspectives and strategies. At the professional development workshops, facilitators shared the importance of mindfulness, personal growth, and the necessity of breaks to boost the creativity required to solve difficult problems.  
The Women Business Owners Roundtable and Executive Women's Roundtable were designed for business owners and executive women to engage with her peers and learn from one another in a supportive environment. The Executive Women's Roundtable was attended by public and private-sector women, including CEOs of DOTs, leaders of transit and aviation agencies and authorities, executive leaders of corporations and other prominent leaders in the industry. The Women's Business Owners Roundtable focused on the issues unique to owning and managing a business. The interactive format included discussions on growth and strategic planning, best practices to improve bottom lines, and measuring and driving desired corporate culture.
On Wednesday morning, the Chapter Leader Breakfast celebrated the hard work and achievements of Chapter Leadership. April Rai, Director, WTS, gave an update on current membership, WTS professional chapters and the enhancements being made to the membership database and website. Elizabeth Faulkner, Associate Principal, EnviroIssues provided an update on the WTS brand-refresh. It was a great way to kick off the conference.
The Boston Chapter organized eleven tours for attendees to explore Boston and its transportation systems. Whether biking down the Casey Arborway, walking through the streets of Cambridge, or touring the Logan International Airport, participants had a blast with their peers and highly knowledgeable guides.
Igniting Innovation through Storytelling
Each day, attendees heard from several panelists, speakers, and peers about leadership, networking, and new technologies in the transportation industry. The Thursday plenary panel featured women who lead their state DOT's. DOT CEO's shared their thoughts ranging from the importance of mentorship and career navigation to leadership style and decision making. The Friday Plenary Panel, Women of the Year, was an opportunity to hear from extraordinary women who have been recognized by their chapter as essential leaders.
Later on Thursday, keynote speaker  Katty Kay took the stage. Kay serves as lead anchor for BBC World News America, which airs on nearly 300 Public Broadcasting Stations. She spoke about the value of confidence in the workplace, letting go of perfection, and choosing action over rumination. Nearly all felt that the confidence she spoke of was contagious and created a shared experience that all attendees could refer to when taking a chance or choosing to be confident.  
On Friday, featured speaker Allie Kelly spoke to attendees. Kelly began her work in transportation while assisting the Trustees of the Ray C. Anderson Foundation to help found The Ray in 2015; she now serves as its Executive Director. Kelly spoke about transportation innovations that The Ray works on. Her passion for implementing new ideas and technologies for a safer and sustainable future was inspiring and reminded us of the impact we each can have.
During the day, breakout sessions focused on areas such as leadership development, ingenuity in resilience, embracing innovation through policy and funding, and transformation in mobility.
Connect, Collaborate, Innovate
The 2019 WTS Annual Conference was a time to connect with colleagues, collaborate with peers, and to integrate innovation for all attendees. We continue to build bridges between partners, chapter members, and WTS International's mission; to attract, sustain, connect and advance women's careers to strengthen the transportation industry. It was great to see our community together and in action in Boston. WTS looks forward to holding it annual conference in Phoenix, Arizona in 2020.