Image

In the November issue of the WTS Newsbrief, we discuss Giving Tuesday, the 2022 Annual Conference, the winner of the Fall Membership Drive, the 2021 Chapter Leadership Development, and benefits of using the WTS ProShop! Plus, we congratulate our Women on the Move and learn more about Industry News.
Giving Tuesday
Image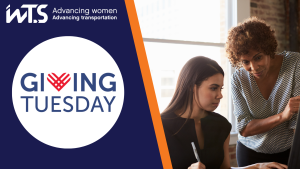 Through the generosity of thousands of WTS supporters, the WTS Foundation has provided millions of dollars in scholarships to deserving women and students throughout the transportation industry.

This year's Giving Tuesday (November 30, 2021), consider donating to support and encourage the next generation of diverse female leaders in their academic careers so they can truly make a difference in transportation.

Donate here. 
Submit a Poster for the 2022 Annual Conference!
Image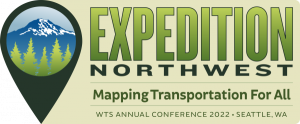 WTS is seeking poster submissions for the 2022 Annual Conference, taking place in Seattle, WA from May-18, 2022! This is your chance to highlight any projects that align with the conference theme "Expedition Northwest: Mapping Transportation for All" for attendees to view all throughout the conference!
The deadline to submit is December 13 - make sure you submit a poster now! Submit a poster here.
 
Fall Membership Drive Winner
Image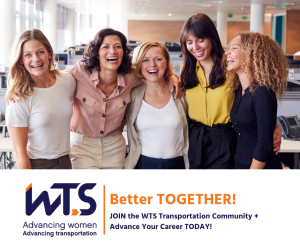 This October, WTS launched a Fall Membership Drive to recruit new members, renew lapsed members, and share the many benefits of a WTS membership. 

This month, we picked a winner of the Fall Membership Drive - congratulations to Janelle Clayton, P.E.!
2021 Chapter Leadership Development
Image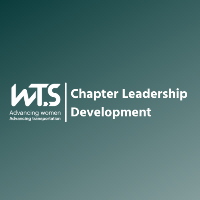 Thank you to all of those who attended the 2021 Chapter Leadership Development! 

You can find the PowerPoints from each of the sessions under MyWTS Chapter Leader Resources!

View the PowerPoints here.
WTS ProShop
Image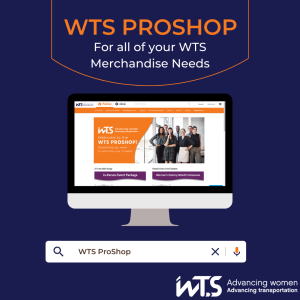 This month, we're highlighting the WTS ProShop, our very own store where you can find marketing materials, promotional items, apparel, accessories, and more for your next chapter event!

Visit the WTS ProShop here!
Image

April Rai named President and CEO of COMTO National

Diana Alarcon named Director of the Nashville Department of Transportation (NDOT)
 
Image

Secretary of Transportation Buttigieg Announces Nearly $1 Billion in Grant Awards for America's Infrastructure 
DOT

DOT Releases State-by-State Fact Sheets Highlighting Benefits of the Bipartisan Infrastructure Law 
FTA
 
FAA Provides Funding to Support Winter Operations at the Nation's Airports Through the Airport Improvement Program
FAA

U.S. Releases First-Ever Comprehensive Aviation Climate Action Plan to Achieve Net-Zero Emissions by 2050
DOT
Thank you to our Strategic and Trailblazer Partners
Image

View all WTS Corporate Partners here.