Achieving Equity Together: WTS International and COMTO National Sign MOU at Annual Winter Reception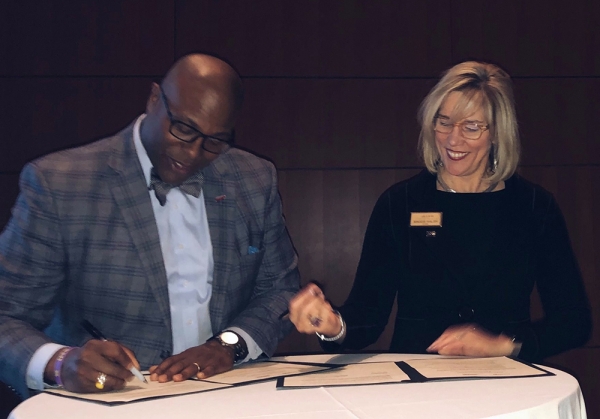 On January 12, 2020, WTS International and co-host, the Women's Issues in Transportation Committee held the Annual Winter Reception.
This year's reception marked the formalization of the partnership between WTS International and COMTO National. Freddie Fuller, COMTO National, chair, Brad Mims, COMTO National, president and CEO, Maggie Walsh, WTS International, chair, and Sara Stickler, WTS International, executive director, were onstage for the Memorandum of Understanding (MOU) signing.  
"This is very exciting for us as it signifies a consensus in our industry that there is work to be done in achieving equity and that the way to achieve it is together," Walsh remarked.
The partnership years in the making will bring new opportunities for diversity, inclusion, and equity in transportation.
"It's about bringing people together. We can do more together than apart. Local chapters have been coordinating for years, and now it's time to make it official," Fuller shared.
There were over 250 attendees, including private and public sector members, and representatives from MOU partners including the Transportation Research Board (TRB) and host of the week's conference, American Association of State Highway and Transportation Officials (AASHTO), American Public Transportation Association (APTA), and American Road & Transportation Builders Association (ARTBA).
WTS International looks forward to collaborating with its MOU partners to create an industry that is more diverse, more inclusive, and more equitable.