Image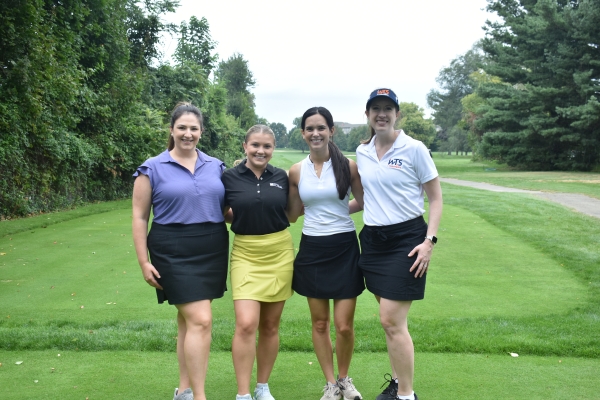 The best part of any charitable golf outing is the fundraising, but as a sidebar to THAT... there are a million little nuances that add up to one great day of industry-centric fun. This was the case at our 4th Annual Golf Outing, held on Thursday, September 22nd at Bala Golf Club. More than $25K was raised to benefit the chapter's scholarship fund.
The sell-out crowd included 144 golfers, a tenacious group of volunteers, and a few crashers from the club's venerable Lady Bridge Team. The pace of play seemed to move faster than years past – which either means the teams are getting better… or folks just gave up sooner after being lured to lunch by the promise of waffles and ice cream. Either way, it made for a splendid day on the course.
The famous WTS Philadelphia raffle contained more than 30 prizes valued between $100 and $550. Donations included a backyard ziplining kit (the chapter assumes no liability), a name brand apparatus to make Wonka-esque fizzy lifting drinks, and weekend escape to Blue Bell's Normandy Farms.
Sponsor support was a key part of the event's success. Special thanks to the following firms/agencies:
LEADER BOARD SPONSORS: Pegasus Financial Planning, Jacobs, Burns Engineering, Anser Advisory, GPI, and C&S Companies
BLUE SPONSORS: KS Engineers, Sowinski Sullivan, Urban Engineers, Hatch LTK, HNTB, AECOM
ORANGE SPONSORS: Hunt Engineering Company, Arrow Land Solutions, Gilmore & Associates, STV Inc., French & Parrello, Conrail, SEPTA, Dewberry, Remington & Vernick Engineers, Arora Engineers, Inc., JMT, Michael Baker International, and General Highway Products, Inc.
WHEEL OF FORTUNE CONTEST SPONSORS: French & Parrello, HDR
REFRESHMENT CART SPONSOR: Traffic Planning & Design
SNACK STATION SPONSORS: C&S Companies, Rig Consulting
PUTTING CONTEST SPONSOR: Drive Engineering
HOLE SPONSORS: Aero Aggregates, KMJ Consulting, D'Jack Consulting, Unicorn Consultants, Promatech, Trinity Subsurface
If you missed it this year, next year's outing is already in the planning stages. Reserve your foursome early! Check out photos from the event!