Transportation YOU is a hands-on, interactive, mentoring program that offers young girls ages 13-18 an introduction to a wide variety of transportation careers. Through the program, WTS - San Antonio Region works to make a difference in the lives of young girls by offering programs and activities that will spark their interest in all modes of transportation and encourage them to take courses in math, science, and technology, which are the stepping stones to exciting careers that can change the face of the transportation industry.
Image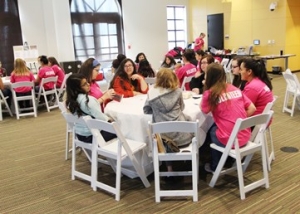 Volunteer Opportunities
The WTS-SAR Transportation YOU (TYOU) program has several components:
General TYOU Activities - including booths at career fairs and STEM events hosted by other organizations and WTS-SAR TYOU events such as the TYOU Summit. These events are open to a wide audience of girls in the San Antonio area.
TYOU Club - The afterschool TYOU Club at the Young Women's Leadership Academy (YWLA) allows the opportunity for high school students to elect officers, conduct biweekly meetings, fundraise, and plan, and get creative with fun TYOU activities with their WTS Advisor's assistance.
The WTS-SAR Transportation YOU committee is always seeking new leaders to help support the TYOU activities, please contact Heather McNeal, TransportationYOU Co-Chair, at [email protected] with any questions.