Signature Leadership Training
Image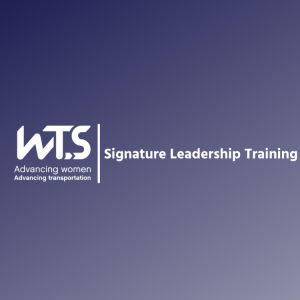 Missed the application deadline for 2021? Complete this interest form to be among the first to be contacted about 2022 Signature Leadership Training Applications!
Dates: October 18 - 22, 2022
Location: Washington, DC (In-Person!)
The Future Is Moving Fast—Learn How to Lead It
In a rapidly changing world, transportation will be essential in the coming years to ensure security, accessibility, and opportunity for years to come. To accomplish these transformative goals, a new generation of leaders will require skills like: innovation, creativity, ability to measure risk, and compassion.
The WTS International Signature Leadership Program prepares women to lead the future of the transportation industry by developing professionally and learning how to manage others effectively; ultimately, for the advancement of the transportation industry as a whole and for those who use it.
WTS International began its Mid-Career Leadership Program, Leadership for the 21st Century, in 2000 and has grown into one of the organization's premier leadership development opportunities. The program has been expanded to include the Executive Leader Program, the first of its kind for the transportation industry. An expert team of professionals created both programs, which are targeted toward women with promise for higher levels of responsibility and leadership.
If you have any questions, please reach out to programs@wtsinternational.org.