Spotlight: 2020 WTS Metro Phoenix Innovative Transportation Solutions Project - MCDOT's Bell Road Adaptive Signals Project
Image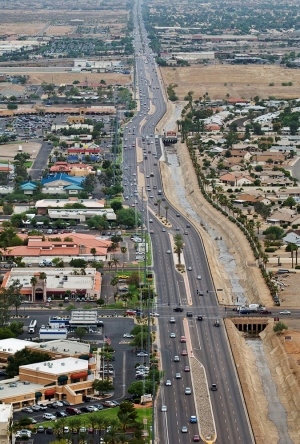 Each month we are featuring an award winner. This month we are spotlighting the Innovative Transportation Solutions Project of the Year Award winner MCDOT's Bell Road Adaptive Signal Project. We talked with MCDOT ITS Project Manager April Wire to get the inside scoop on the project and what it means for the thousands of drivers who use Bell Road every day. 

Can you give us a brief overview of the project?
The Bell Road Adaptive Signal Control Project is the largest adaptive signal control technology (ASCT) project by the number of agencies involved.  It included installing the technology on 50 traffic signals, across about 16 miles in four project areas focused around Bell Road's freeway interchanges. What made this project special is that it included seven partner agencies because Bell Road runs through several jurisdictions. 

What makes the project unique from other projects you've worked on?
This project was unique because we were able to work with many different partner agencies working with a variety of advanced traffic signal timing strategy solutions that local agencies traditionally don't get to work with.

How will residents and drivers benefit from the project?
Drivers may notice improved travel time and signal performance on Bell Road.  They'll also experience a seamless commute crossing from agency boundary to boundary but most of all the project means less stress for drivers because it reduces the among of stop and go traffic conditions on the corridor.
What advice would you have for other project teams considering a similar project? 
ASCT can provide positive results in the appropriate traffic scenarios.  It is not a signal timing strategy that should be installed at all traffic signals.  Understanding your roadway network and traffic patterns in key in determining if ASCT is appropriate.  Also, not all ASCT systems operate in the same way.  It is important to understand the capabilities of the system you install, what it's strengths and weaknesses are.  Understanding the maintenance strategy of the vendor is key in maintaining the operations of your ASCT into the future.