WTS Women's History Month Interview
WTS Women's History Month Interview with Kimberly Slaughter, Chief Executive Officer, SYSTRA USA 
Image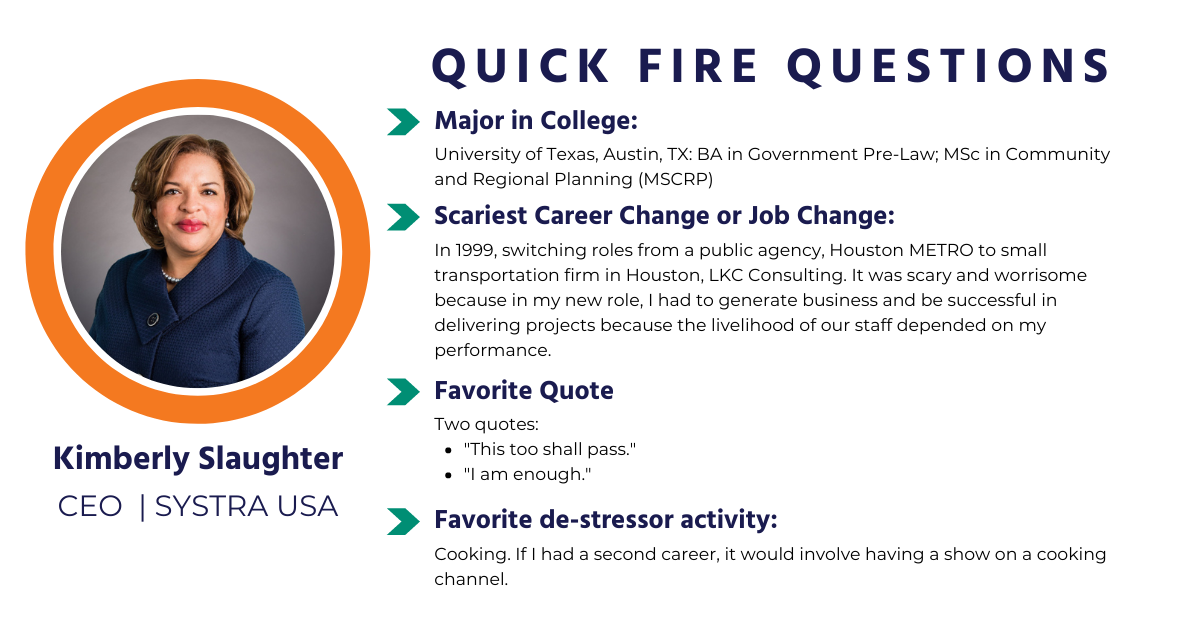 First, tell us a little more about career and the path that has led you to being the CEO of SYSTRA, USA? 
My career path has not been a straight line to where I am today. It has been a winding path that has evolved and materialized over time. I discovered community and regional planning through taking a course in my senior year of undergraduate school in social psychology. This class allowed me to explore how communities are designed and what resources are made available to us, and how they affect our mental well-being and subsequently, our quality of life. I secured an internship with a consulting firm one month before starting graduate school where 80 percent of that firm's work was in transportation. Once I realized how transportation and access to transit had the potential to change people's lives, I knew that I had found my passion. I wanted to influence improving the mobility of our communities for all people regardless of their geography or socioeconomic station in life.
I initially leveraged my computer programming skills to become a travel demand forecaster and to differentiate myself in the industry. I was a bit of a unicorn in this aspect of the industry because I was both a woman and Black. It was rare that I encountered another female colleague that was a modeler and they were never women of color. I knew that I had to be excellent at my craft because I was always being judged. The fact that I was also young and walking into working environments added yet another layer of complexity. I was 22 years old when I started this career and only spent a short tenure as a part time intern. My employer was very impressed with my skills and very quickly engaged me on a full-time basis, sending me to work directly with clients. At first, when going to work with clients, they thought I was a receptionist or providing some administrative support. They were always astonished to learn that I was the technical staff who ran their forecasting models or taught their staff how to run the models. My true differentiator lay in the fact that not only could I write the source code, run the model and analyze the results, but I also clearly communicated the results of the model for various audiences. This included community members, peers, board of directors and elected officials. 
This exposure to the public confirmed for me that I was not satisfied with a role that focused on such a narrow portion of project delivery. I wanted to become more knowledgeable about all aspects of project delivery, including program visioning, grant application and compliance, environmental planning, operational and capital cost development, financial plan development, rolling stock selection, design, contract development, construction and more. This exploration led me to work on full program management and delivery. There is nothing more exciting than working on a project from the conceptual design stage with a community, and then being there to take a ride on the service on the first day of revenue operations. It is very fulfilling to know that you have helped to bring something to fruition that will actually change people's lives, immediately. 
I also like helping people be their best selves, facilitating strategic partnerships, and working on diverse tasks. Whether it is through pursuing a project, exploring career opportunities in the transportation industry, establishing a key partnership, or brainstorming to find an approach to solve a challenge, I gain personal and professional fulfillment from helping others make the right connections to achieve their goals. My roles as the Central Region Transit Market Director for HDR, the Senior Vice President of Service Design and Development for Houston METRO, the National Transit and Rail Market Sector Leader for HNTB, Chair of Leadership APTA for the American Public Transportation Association (APTA), and now the Chief Executive Officer of SYSTRA USA have progressively given me the opportunity to do those things.
We know it's only been a couple months, but favorite part of your new position?
You're right. It is still very early in my tenure as CEO of SYSTRA USA. I started on February 1, 2021 so I just finished my first month. My favorite part has been meeting our US team and recognizing the amazing talent and high level of technical expertise that we have. It has also been fascinating to meet (virtually) my SYSTRA colleagues from across the world that are ready to provide me with the support our team needs to be more successful. While SYSTRA has over 7,300 employees worldwide, one of our corporate values is Connected Teams. This means that we are highly focused on helping and supporting each other by providing resources, sharing lessons learned, and creating the feeling that every employee is valued, much like you would find in a small company. I have made a commitment to personally meet every one of my team members in the US. There seems to be a theme so far with the persons I have had the pleasure to meet. Repeatedly, I am hearing that SYSTRA feels like a family. I want to protect that culture. I want to continue to cultivate that sense of connectivity within our team.
Looking back on your career, what one or two events do you credit as turning point(s) to your career?  Did you know at the time that they were monumental moments?
There were always points when I took a risk that took me out of my comfort zone and I had to step out on faith. I had to have faith that I had what it took to stand up to the challenge of the new position. I also had to have faith to know, that even if I failed, I had it within me to recover, redirect and find a path forward. In 1999, I was working for the Metropolitan Transit Authority of Harris County, Texas (Houston METRO) as a Travel Demand Forecaster. I was about 12 years into my career and knew that I did not want to write source code, run computer models, and analyze those results for the rest of my career. Instead, I wanted to explore the broader aspects of project and program delivery. I also knew that I wanted to be on a path that allowed me to perform or participate in many diverse activities because I am easily bored by performing the same type of task repeatedly. I knew that I had to leave the public agency and return to the consulting world so I could have broader opportunities to use my broad range of skill sets.  I was fortunate enough to work for a 15-person planning firm (LKC Consulting) led by a barrier-breaking woman, Linda Cherrington, who had been the youngest Assistant General Manager at Houston METRO, and decided to start a firm of her own. She found no reason to put limits on herself or anyone, and that was exactly what I needed. In two short years, I had developed financial plans, delivered public meetings, planned fixed route systems, assessed facility needs, and helped manage a dynamic team of smart young professionals. Since it was a small business and I was a senior member of the team, I also had to learn how to run the business. Accounting, payroll, hiring, business development, proposal development, contract terms and conditions, retaining staff, and especially getting paid on-time, all became growth opportunities for me. This experience was a significant gamechanger for me. I not only found my way out of the previous box I was in, I blew the box up on my way out. I left my previous mindset and gained my own new and unique perspective.
In 2008, I found myself at a crossroads. I had just completed two year-long executive training programs simultaneously to prepare me to select my path of growth in the transportation industry. I was chosen as one of eight persons within HDR to be in the first class of their program called Career Skills II. The idea was for us to learn individually and collaboratively every aspect of how HDR operates its business. It was a great experience because we had mentors, we were taught by the best-of-the-best in the firm, and had direct access to the leadership of the company. We were no longer a number. HDR Executive Leadership Team now knew each of us personally. I truly treasure that experience and the people who were in my class. There was no question why each of us had been selected. This was particularly meaningful to me because I was the only Black female in the group, and I knew that I was taking on a responsibility to build a path for others. I think that it is significant that two of the eight members of that class are now CEO/President of consulting firms. There is myself and HDR's new President of their Transportation company, Tom McLaughlin, have risen to the C-suite. At the same time, I was a member of the best-class-ever, Class 14, of Leadership APTA. I had been selected as one of 25 persons from across the transit industry to learn about the challenges faced by the C-suite including labor negotiations, funding capital projects, briefing members of Capitol Hill, ethics, managing yourself with the media, and so much more. Leadership APTA is committed to training the transit industry's future executive leaders. It was an amazing experience. It has been incredible to watch my classmates' careers advance, seeing them contribute to the transit industry and dedicate themselves to the mission of prioritizing transit in North America through the American Public Transportation Association (APTA). All of this should have helped me see a clear path forward and determine my future. Instead, when I sat down with my HDR executive mentor to draft my career plan, I found myself in tears. I know. Don't cry at work, but I did. The full-on ugly Oprah cry because I was torn. I should share that I have always been driven by wanting to do things that would make a difference and improve people's lives, even as a child. Helping others and improving people's quality of life is exactly what attracted me to the planning profession, and ultimately, transit in the first place. It wasn't clear to me how I was making anything better by advancing into corporate leadership. One of my clients at the time, Frank Wilson was the CEO of Houston METRO. He had also spent the last year trying to convince me to come back to the agency as an employee and help build back up their planning department. They needed to restructure to not only develop and support a capital program for growth, but to also focus on every day functions to support agency operations while retaining staff and attracting new staff. I took the job against the recommendation of my boss and incredible mentor, Steve Beard; and again, it changed my life and the trajectory of my career.
I find that life has a tendency to introduce disruptors just when you think you are comfortable. In November 2020, I found myself again at a crossroads in my career. Needless to say, I was not looking for a change of company. I was very comfortable in my career with HNTB and felt that I had nothing but opportunity for growth. Doug Mann was probably one of the best persons I had ever worked for and I truly see him as a colleague and as a friend. Doug and I had been discussing my next step within the firm when I was presented with the opportunity to compete to be the CEO of SYSTRA USA. Initially, I dismissed the idea as I questioned and challenged my readiness. As I spent more time in the recruitment process, I began to realize that I was exactly what the company needed. I am a team builder. I am a solutions finder. I am a collaborator. I can see the big picture and break it down into implementable pieces. I am a communicator. So I consulted with my circle of peer mentors that sobered me and further emphasized to me that I was perfect for this opportunity.  [Note: I highly recommend that you always have a set of peer mentors that will be brutally honest with you.] Additional confirmation came when I began to call clients and colleagues to be a reference. Person after person said to me, "It's about time. You should have been a CEO a long time ago." I was so humbled by these words. The final confirmation came when I shared the news with Doug Mann. I dreaded this moment, but his words were, "Well, of course they chose you. This is well-deserved." Another moment for tears and another change in my career trajectory. I recognize that selecting me as CEO of the SYSTRA USA team is groundbreaking and glass ceiling busting for women and people of color in the US. It is even turning heads and shaking things up in Paris.
What women leaders or trailblazers have you admired in your career, and what did it mean to you to have them pave the way and provide that leadership example? 
The reality is that my career path has followed and been nurtured in a male-dominated aspect of our industry. I am a Planner, not an Engineer I had dabbled in learning computer programming languages since I was 11 years old. I was afforded this opportunity by courses offered in my schools that were taught and sponsored by professionals from major corporations like Exxon, IBM, and Radio Shack. I later went on to earn a Masters in Community & Regional Planning from the School of Architecture from The University of Texas at Austin. I entered the industry through an internship with Parsons Brinckerhoff Quade & Douglas (PBQ&D) as a graduate student. So when companies are evaluating the benefits of donating money or making in-kind contributions through equipment or volunteered staff time to programs for kids, I am a manifestation of the benefits. It is about creating a future workforce. It is about giving people tools to explore paths that may not have otherwise been open to them. Our corporate investments open doors to futures realized.
When I took those computer programming classes, they were always taught by men. Not once was I denied or discouraged from participating by the men that taught these classes. I was able to leverage this foundation of knowledge of computer programming to become a travel demand forecaster for PBQ&D. Most times, I was the only woman among my colleagues and for many, many years I was certainly the only Black woman. My colleagues, my mentors, my guides, and my teachers were most commonly men. They not only helped me reach technical excellence, but they supported me and directed me to opportunities that may have even been beyond their interests and capabilities. Most of all, they encouraged me to be the best me that I could become. I highlight the importance of men in my journey because I truly would not be where I am today without their support. This conversation we are having about elevating women in the workforce, paying us fair and comparable wages, and simply creating a table that welcomes all people to diversify the voices heard so that we as an industry are better equipped to serve a broader market is very important. It is important to recognize the roles of both men and women. I want all of the men reading this story to know that women are not asking them to step down from the table. We are simply saying that room should be made for women at the table. It will take all of us working together to affect and sustain these changes.
I often describe the analogy of the prom when trying to explain the needed change to people.  You commonly hear that most people want to be invited to the prom to feel included.  I say that true inclusion is equivalent to inviting a diverse group of people to be on the prom planning committee.  This will allow them to be part of the decision-making on the committees and possibly provide leadership for those committees.  Then, it is a natural follow-up that they are selecting outfits and choosing to have a date for the prom or just enjoy the fruits of their labor with their friends and colleagues with a group dance.
What challenges do see that women are facing today in the workforce and what advice would you give women looking to advance in their career?
I am a strong believer that subliminal issues are more damaging and more effective at holding us down than some of the overt issues. The overt issues are easily recognized and will get all of the attention as we embark on change. It is the less recognized constraints that I want to bring forward and change. I would like to point out the language we use when referring to women. Words are powerful. Words create mental images for all that hear them. Too often, women are referred to as "girls" in the office and not women. I have a friend that kept referring to the women in his office as girls. I seriously kept giving him the benefit of the doubt that maybe these persons were significantly younger than him. I know that he has a very accomplished wife and two daughters that he would want others to respect. But every time he used this language, it resounded loudly with me. One day, I asked him how old these girls were in his office and he responded with, "they are definitely over 60 years old". At the time, he was in his 40s. I asked him if he would refer to his Mother as a girl since she was comparable in age. He said that he had never thought of it that way. I know that our conversation made him more aware of his language. He didn't change overnight but taking that first step begins the journey of change.
Or, the language we use in a professional environment reinforces the presence of men, but not women.  This is one of those items that is unconscious for many people, yet still oppressive.  How many times have you prepared a project budget or cost estimate and used "man hours" as your unit of measure?  Sure, many people will dismiss this as superficial, but it is not.  Women as expected to see themselves in "man hours", but men would find it ridiculous to be asked to see themselves in "woman hours".  We should all ask ourselves why the reverse seems illogical.  The simple change of using "labor hours" as your stated unit is impactful and facilitates an era of change.    We need to feel empowered to speak up, bring attention to these subliminal messages of one gender being superior to the other, and erase these unintended negative impacts from the workplace.
How have you handled awkward or uncomfortable conversations or moments in your career as a woman and a woman of color?
I typically come from a frame of reference that most people have good intentions. Sometimes, people do not realize that the questions they are asking you are uncomfortable and inappropriate. If it is a subject that I can use as a teachable moment then I will provide a response that is informative, and hopefully, broaden the perspective and outlook of the person asking the question. I also try to help them understand how their question could be seen as offensive and discouraging to building a relationship with someone that did not feel empowered to speak up.
However, I am also not naïve. I have been in conversations that were offensive to me as both a woman and a person of color. Better yet, I clearly understood that the person asking questions or making statements fully intended to be offensive. Sometimes they were so arrogant that they assumed that I didn't understand their intent and assumed that I did not feel empowered to take action and change my environment. These types of situations are particularly difficult if the person asking the questions or making the statements is your boss, regardless of their gender. When I have been faced with these situations, I have always tried to step back, be calm, and try to assess the circumstances. If I was sure of what happened, I engaged in a conversation with that person's boss hoping to find a path forward. Here is where I have seen the response differ based on the gender of the offender. When men showed offensive behavior, I have typically seen them offered coaching and mentoring to improve their leadership skills even if he was close to retirement age. When women showed offensive behavior, they were typically labeled as difficult and put on a performance improvement plan, and possibly held back from other opportunities for growth. I am hoping that as we see a greater diversity in leadership this disparity in response based on gender will be corrected. I am driven by something my Mother used to tell me when I was young. She knew that she needed to prepare her daughter with the tools (spiritual, educational and material) to succeed in a white and male-dominated society. She would say that other people can be your stumbling blocks, but they can never stop you completely. The great thing about stumbling blocks is that you can go around them, over them, under them, or you can remove them if needed. Only you can choose to stop pursuing your passions completely.
What do you wish you knew 20 years ago that you know now?
I wish that I had realized and fully embraced that I am enough just as I am. The syndrome where women believe that we must be perfect before we can pursue the opportunity we want is real. We also try to be too nice and think that it would be offensive to ask for what we truly deserve and have earned. When I look around, I realize that many of my male counterparts pursued or were offered similar roles to where I am now when they were ten years younger than I am. What is wrong with this picture? I was just as qualified as they were ten years ago, but I know that I didn't always believe that was true about myself. I felt that others would recognize my value and offer me the opportunity once they realized I was qualified. But again, had I been more assertive about pursuing a position in the C-suite, I would have been labeled with some very negative terms because I am a woman. But maybe there is something to the journey I have travelled as it certainly has taught me the value of being a servant leader and not being ashamed of bringing my personal values of honesty, inclusion, mentoring and listening to the table. When I asked the CEO of SYSTRA Group why they chose me as the CEO for SYSTRA USA, he responded that everyone I met appreciated my lack of arrogance, my priority for collaboration and my humble servant spirit.
In your opinion, what is the best approach to create more diversity and to attract more women to the transportation workforce?
We have to be purposeful and strategic. We need public sector and private sector partners involved in educational programs to expose young girls and all children of color to careers that they may not have considered, starting as early as grade school. We need to invest in our future workforce. We need to recruit at colleges and universities that have high populations of women and people of color. Most of all, we need to look for characteristics of good, trainable employees that go beyond the grade point average that we typically look at for comparison. I will take a good "C" student that works hard, is continuously learning, is reliable and brings a broad range of skills to the table any day. From this group I can build a team of technical experts that are sensitive to the needs of our clients and the communities they serve. I can build great industry leaders from this group.
What is the value (for women in transportation and engineering fields) being involved in organizations that are focused on the needs of women?
Sometimes, women just need to talk about issues that are more inherent to women. We need to be in an empathetic environment that is supportive and provides for an open dialogue on issues without judgement. I appreciate it when my fellow female colleague says to me, "you are not alone. I have experienced that too and here is how I handled it". For example, sometimes, as a woman, you just need to hear that it is nutritionally sound to feed your children cereal for dinner because you are too tired to cook, and you are still a good mother. (not that I would know from my own experience ?)