Spotlight: 2020 Employer of the Year - City of Phoenix Public Transit Department
Image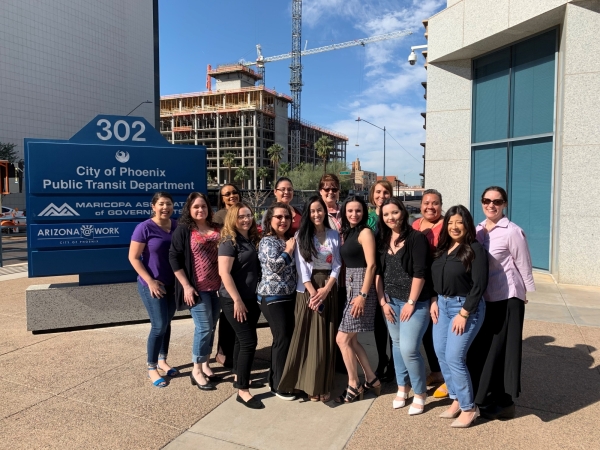 Each month we are featuring one of our 2020 WTS Metropolitan Phoenix Awards recipients. This month we are spotlighting our Employer of the Year, the City of Phoenix Public Transit Department. We talked with Public Transit Director Jesus Sapien about the Department's commitment to providing opportunities for career development.
How does the City of Phoenix

Public

Transit Department support women looking to join or move up in the transportation industry?
The Public Transit Department offers women, and anyone else interested in the transit industry, the opportunity to shadow colleagues or management, and encourages those who want to cross-train in multiple transit areas to discuss it with their leaders and pursue appropriate opportunities.  
Public Transit employees may wear several hats - which means it is easier to interact with decision makers and have more visibility. And because our staff often wears several hats, they are likely to gain knowledge, skills and insight beyond their customary roles. Collaboration opportunities are immense since staff is likely to work on a project that involves various internal divisions, other city departments, and community stakeholders. 
Why is it important to not only support but also create career development paths for women in your organization?
As the largest member of the Valley Metro regional transit system, we provide commuter and local bus service as well as Dial-a-Ride service for individuals with special needs. 
We work together to make sure our citizens have options to get where they need to go – whether that's work or school, or any other transportation needs someone may have. Because of that, we know what a difference it can make in someone's life to have a community that supports and creates paths for success.
While we are a smaller department within the overall city of Phoenix organization, our daily work has a significant impact on the lives of our citizens and we think it's important to also have an impact in the career advancement of talented, passionate and dedicated professionals in the public transit/transportation industry.
What benefits have you seen in having your team members participate in WTS programs?
The department is supportive of its WTS members and allows members to participate in the Phoenix WTS chapter via various ways.
When there is an event or a conference, staff communicate with each other and often offer each other assistance to give WTS members the opportunity to attend - knowing the department is covered and service to our customers won't skip a beat. 
The department allows staff the flexibility to partake in WTS and other types of programs such as Emerging, Engaging and Inspiring Leader programs offered by the city's organizational development curriculum.
Staff come back to work with more focus on self, team, and organizational awareness, and the ability to mentor others. 
What words of wisdom do you have for young women who are entering or are interested in entering the transportation industry?
Attracting and retaining women into the public transit/transportation industry requires a well-rounded approach, in that we have needs for professionals from varying and diverse backgrounds and education fields. Creating diverse, flexible and welcoming environments with clear steps for advancement is key to attracting talent at an early age or early in someone's career. That part is on us as leaders in the industry.
These are not really words of wisdom, but words of motivation (hopefully) for young women interested in the public transit industry: Be assertive and trust your skills and what you bring to the table - you know your area of expertise best. If you can, be there to support your coworkers and share what works for you.
Sometimes you can be in a room full of people and groupthink occurs, so don't be afraid to be the voice of reason and to challenge the norm while working together. Lastly, try to lead by example. The transit industry is continually evolving and innovating, and leadership by example can provide insights into how to do things differently or better.