Maritime: A Promising Field for New Talent
There are more than 1,800 men and women in the WTS Maritime Community that we have the honor of celebrating for this year's World Maritime Day (WMD).
They work in academia, construction, engineering, environment, finance, marketing, planning, and operations, to name a few. Their fields are as diverse as they are.
The WTS mission to attract, sustain, connect, and advance women's careers to strengthen the transportation industry aligns closely with the International Maritime Organization's 2019 WMD theme: "Empowering women in the maritime community."
Image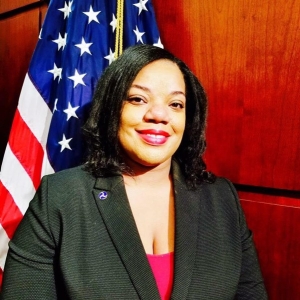 We spoke to Tori Collins, who focuses on Program Performance and Compliance for the Office of Ports and Waterways at the U.S. DOT, Maritime Administration (MARAD), about her career in Maritime.
"Admittedly, it was by an act of providence that I was recruited to work with the Maritime Administration," Collins said. She lived and worked in Chicago before attending a federal job fair for VISTA and Peace Corps Alumni in Washington, D.C. What began as a great way to see old friends and network in July ended in a job offer in October.
In 2014 Collins began her career in Maritime. "When I did my research, I realized that I knew very little about the industry, specifically how freight was shipped in this country and the overall importance of the ports as a key to the Nation's economy." Now, five years later, Collins has settled in at MARAD, a place she describes as a ship and her role to be a good shipmate. "I understand how increasing opportunities for more funding at the port for infrastructure upgrades can trickle down to a small business owner in middle America."
Collins is a newer generation of Maritime professionals. Lisa Himber, Vice President at Maritime Exchange, has been on the scene since 1988. She shares in The Beacon, the Exchange's publication, her hesitation for this year's WMD theme in the article "What's that about 'empowering women?" She writes, "Does the scarcity of female maritime leaders result because the industry systematically allows only a select few women to reach that status, or is it that far too few young girls and women choose maritime as a career?" Himber presents a valuable question.
We followed up with Himber to better understand how maritime has changed and if "empowerment" is still the right benchmark. "I believe that women who enter the field today have a much better chance of advancing their careers than I did in the 1990s, just as I had more opportunities than the women who came before me in the 1980s," Himber said. "When I started, I met almost no women who were encouraged – by either families, friends, schools, or even government agencies such as Coast Guard – specifically toward maritime, and today it still seems that a relatively small number of women I meet were specifically counseled in this direction."
Collins, a success story for federal recruitment, told us "across the U.S., when visiting ports or attending industry conferences, I see more women represented and the role of women continues to grow in the shipping industry." Which creates a recurring theme: the need to recruit talent to the industry.
"Talent is equally distributed.  Therefore, if women or people of color or other underrepresented groups aren't being encouraged to enter an industry, in your hiring pool, or supported in their careers then you don't have the best people. You left some of the best people behind and you'll be the poorer for it." Collins said.
In her article, Himber concludes by saying, "I'd elect to spend more effort educating the upcoming generations on the value of choosing maritime careers." In our follow up, Himber shared with us that such efforts are important, especially in a male-dominated field like maritime. "As an example, I attended a meeting just last week where of about 70-80 people in the room, only five were female.  Some young girls may not realize how many options are available to them in maritime. Helping them to understand those options could have a huge impact."
To those young girls, Collins offers the following advice, "Explore as many opportunities as you can and think outside of the box when doing so! Maritime is one of the oldest industries. It incorporates a variety of opportunities. The importance of maritime for both commercial trade and tourism results in stable, well-paying jobs, and an increase in retirements due to an aging workforce creates new career opportunities."
The WTS Foundation itself was created to formalize our community's mission to educate and welcome young women and girls into the transportation industry. By educating young women and girls about the opportunities in Maritime—from academia and construction to marketing and planning—we can genuinely "Empower Women."