Kim Day, CEO, Denver International Airport, Shares Insights from her Leadership Journey
On November 7, Kim Day, CEO, Denver International Airport (DEN), joined the Chapter Leader Training for a fireside chat in Denver, Colorado. Danielle Smith, Treasurer, WTS International Board of Directors, Central Region Director, Triunity Inc., led the conversation.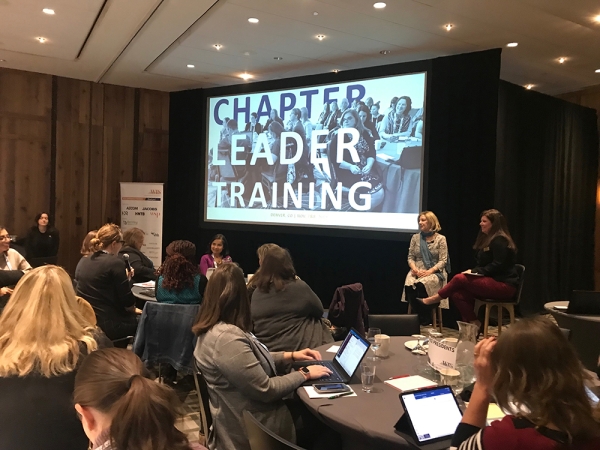 Day has led DEN as CEO since April 2008. Under her guidance, DEN has become the nation's fifth-busiest airport, the region's most powerful economic engine, generating more than $26 billion annually, and the top-rated U.S. airport by passengers, per SkyTrax.
The Path to CEO
Day previously served as executive director of Los Angeles World Airports. Before assuming the top position, she oversaw the agency's design and construction programs. After receiving a Bachelor of Architecture degree from Cornell University, Ms. Day practiced architecture for more than 20 years.
As an architect, she solved functionality first, which gave her the confidence to take on other problems. On the transition from architecture to leadership, Day said, "I knew architecture, I didn't know running an organization. I quickly realized it utilized all of my skills."
When faced with the unknown, "We take stuff on and just keep going," Day remarked. Architects are good at getting things done, even without all of the necessary information.  Building on her years as an architect, Day said: "The same skills you use designing and building a building are the same skills you need to lead an organization."
Day urged the Chapter Leaders in attendance to work hard and think hard about new career paths because"When you have opportunities, you just don't know how it will lead to the next opportunity." After diving into the CEO position, Day learned about finance, communication and technology from those she worked with and gained new skills and knowledge. She expressed how she depends on the expertise of those around her as "trying to know everything, and micromanaging will end in disaster."
Day also encouraged chapter leaders that "It's okay to be scared," and that when it comes to hard problems, "You just got to do it and you'll feel stronger."
Adapting to Industry Trends
When asked about pressing industry trends, Day had no shortage of topics. "The device you carry around is changing the way you travel." The use of mobile devices, according to Day, has affected shopping, parking, booking, and more. DEN has made the choice to use technology humanly: "We are much more customer-focused than we ever have been." Day said, "We are bucking the automation trend."
Day has led DEN going green. Solar energy powers 10% of the airport, composting has become the standard, and excess food is donated to the community. Day even described a bottle concierge service offered to keep glasses intact following recycling best practices, and bathrooms are ditching energy reliant dryer for compostable paper towels.
When it comes to workforce trends, Day noted that the challenges DEN faces are similar to those of organizations across the country. They are making changes to appeal to younger generations while managing expectations of what's possible at a 24/7/365 operating airport. On staffing her team, Day shared, "When we see a smart woman, we try to hire them at the airport."
Following Passions Outside of Work
Reframing the conversation, Day remarked that she calls volunteering service and commended the many chapter leaders in the room who choose to serve through their career in the public sector. She received her Bachelor of Architecture degree from Cornell University and has since interviewed potential students as an alumnus. She has also worked with political committees for people she has believed in and worked with Habitat for Humanity.
Her biggest passion? Animals! She serves as a Board of Directors of Dumb Friends League that places animals with new homes. "I find a lot of satisfaction in my job but I find a different kind of satisfaction outside of my job." Her work also enables others to serve. For example, 120 dogs and owners roam the airport for visitors to greet.
Chapter Leaders were energized for the training with Day's honesty, humor, and advice. By the end of the chat, Day summed up her role by saying, "It's the best job in America. I love my job."