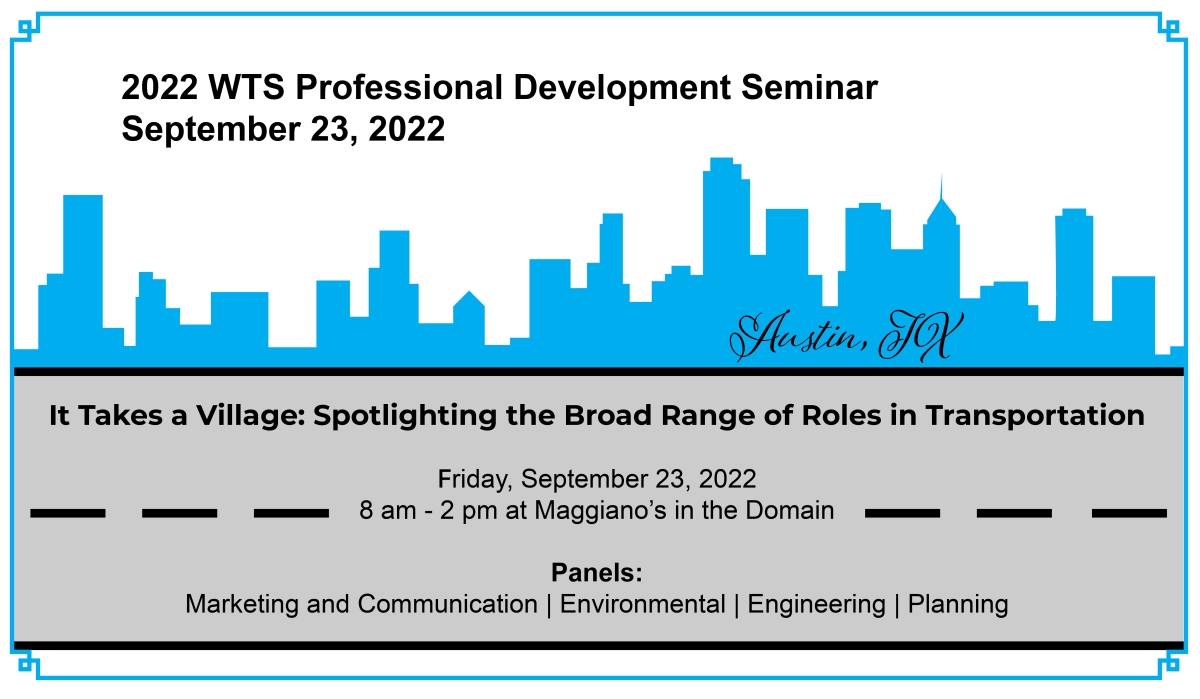 The 2022 Professional Development Seminar will include four sessions focused on different disciplines within the transportation industry: Marketing and Communication; Environmental, Engineering, and Planning. 

During each session, representatives from different local agencies and firms will discuss how they collaborate across disciplines and at different career stages to improve our transportation systems. They will share lessons learned from their experience and explore how to best prepare our workforce for the future. Our keynote speaker, Rob Spillar, will share from his experience as the former Director of the Austin Transportation Department, highlighting insights on how the transportation community can work together effectively to accomplish needed transportation improvements. 
Panelists will include speakers from all levels of transportation: entry level, mid-level, and upper-level management.
Schedule
8:15 am - Check-in
8:30 am - Coffee and Continental Breakfast
8:50 am - Welcoming Remarks
 
9:00 am - 9:45 am: Panel 1
Marketing and Communications
Shuronda Robinson (Adisa Communications, CEO)
Sylvia Shelton (Central Texas Regional Mobility Authority, Communications Manager)
Lori Reza (Freese and Nichols, Inc., Marketing Coordinator)
9:45 am - 10:30 am: Panel 2
Environmental
Shari Cannon-Mackey (Burns & McDonnell, NEPA/Environmental Planning for Transportation Project Manager)
Scott Pletka (TxDOT, Supervisor, Archaeological Studies Branch)
Meghan Lind (Stantec, Technical Services Manager/Senior Ecologist & Project Manger)
10:30 am - 10:45 am: Break
10:45 am - 11:30 am: Panel 3
Engineering
Akila Thamizharasan, PE, PTOE, PMP (TxDOT Austin District, Director of Advance Project Development)
Christine Cheng, EIT (HDR, Traffic Engineer)
TBA
11:45 am - 12:45 pm: Lunch and Keynote Speaker
Keynote Speaker
Rob Spillar, PE (STV, Smart Cities National Director)
12:45 pm - 1:00 pm: Break
1:00 pm - 1:45 pm: Panel 4
Planning
Annick Beaudet (Project Connect, Mobility Officer) 
Rose Lisska (CapMetro, Senior Planner)
Cecley Hill (Asakura Robinson, Urban Planner)
1:45 pm - 2:00 pm: Closing Remarks

Attendees can earn four (4) CE hours from the American Planning Association for participating in the 2022 Professional Development Seminar.
For Corporate and Agency Partners wishing to use your allotted tickets for this event, please contact the Corporate Partner Chair, Janelle Carey (corporatepartnership@wtshotchapter.org) to register.
 
Reservation Deadline:
Friday, September 16, 2022 at 5 pm
or when event has reached maximum capacity
You will receive a confirmation email after you register. If you have any issues with registration or if you do not receive a confirmation email before the reservation deadline, please contact profdev@wtshotchapter.org. 
Looking forward to seeing you soon!
Mary Jo Galindo
WTS: Heart of Texas Chapter
profdev@wtshotchapter.org
2022 PDS Day