WTS 2021 Annual Conference
WTS 2021 Annual Conference
Week of May 10, 2021
Image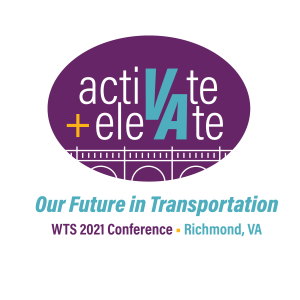 Registration Opening in February 2021!
The 2021 Annual Conference: Our Future in Transportation will remain the Richmond, Virginia conference, but will be reformatted to take place in a virtually.
The conference will bring together transportation professionals from across North America to discuss topics under the 2021 theme: Our Future in Transportation. Conference track topics include:
One Size Does Not Fit All: Ingrain Equity and Inclusion in Workplace Culture

The Future of Innovation in Transportation

Mobility Redefined: Evolving Transportation Through Creative Innovation

The Silver Tsunami: Riding the Wave Toward the Workforce of the Future
Tours and activities will retain a Richmond, Virginia theme.  WTS International is looking forward to bringing its signature networking events to a virtual format.  The conference will be held in May 2021 with a full agenda released in January 2021.
Call for Abstracts
Consider sharing your specialized transportation knowledge, insights, and experiences as part of a breakout session at the 2021 WTS Annual Conference. The abstract submission deadline has passed.
Call for Posters
Submit a poster abstract for the 2021 Annual Conference! A poster gallery highlighting projects that align with the Conference theme, "Our Future In Transportation," will be available for attendees. The poster submission deadline has passed.